Do you have a subwoofer and want to make it wireless? Then there is a perfect solution: the Subwoofer Anywhere 640 .
This wireless audio transmission set allows you to wirelessly connect your subwoofer to an amplifier, AV receiver or hi-fi system.
The set consists of a transmitter and receiver that you connect wirelessly. You can place a subwoofer anywhere in your living room in this way. Moreover, you don't have to worry about tripping over unnecessary cables.
Place a subwoofer wherever you want

There are many different subwoofers on the market. It is difficult to indicate where a particular subwoofer comes into its own. The cheaper variants are usually placed in a corner. The more expensive variants often sound better when they have more space. The fact is that you should always first carefully check where a subwoofer in your living room comes into its own.
Perhaps even more important is your personal preference and the physical possibilities in your living room. When you the Subwoofer Anywhere 640 a preferred location is very easy to determine. Because the subwoofer is connected wirelessly, you can easily and quickly determine the best location. You don't have to buy long audio cables and it's easier to move the subwoofer if desired.
No audio cables on the floor

The Subwoofer Anywhere 640 connects wirelessly to an amplifier. This means you don't have to lay long audio cables across the floor to the amplifier, AV receiver or hi-fi system. This is of course much safer and more beautiful. You only need to power your subwoofer, receiver and transmitter.
How does it work?

The Subwoofer Anywhere 640 is very easy to install and use. This wireless subwoofer set/kit consists of a transmitter and a receiver. Connect the transmitter to your amplifier and the receiver to your subwoofer.
Power both and the sound will automatically be sent wirelessly. The digital audio technology used ensures unimpeded sound transmission and the gold-plated connectors for the best possible connection. This set works with any brand of active subwoofer with a LINE LEVEL or LFE input.
Benefits of making your subwoofer wireless
+ No need to buy long audio cables.
+ Audio cables do not have to be concealed.
+ Quickly determine the best place for the subwoofer.
+ Place a subwoofer anywhere in a room.
+ No risk of tripping over audio cables.
+ Your living room looks tidy and neat.
Get rid of that annoying audio cable today and place your subwoofer where you want it .
Also check out our other wireless audio solutions: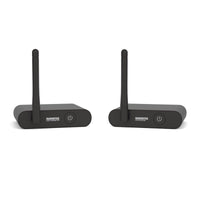 Subwoofer Anywhere 640 - Wireless audio transmitter and receiver for subwoofer
View products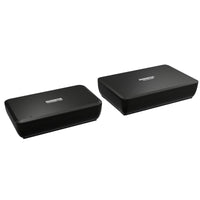 Surround Anywhere 221 - Wireless speakers connection
View products
Why choose Marmitek?
All our products have been extensively tested and meet the high quality requirements that we and our customers set for our products. We have been offering the best solutions for image and sound transmission at an affordable price for 25 years. We make products accessible to everyone; all our products are plug & play.
Moreover, we are always ready to help you find the right solution for your situation.
Marmitek. Stay connected.