4K HDMI wirelessly from one laptop to multiple TVs
4K HDMI wireless

Meet the TV Anywhere Wireless 4K Pro. This wireless 4K HDMI extender makes it possible to send wireless 4K HDMI from one HDMI source (e.g. laptop) to a beamer, TV or presentation screen. Wirelessly send HDMI to up to 4 displays at the same time! Ideal for use in large spaces where multiple screens are used. The signal even passes through walls and floors and has a range of up to 50 meters.

Pride

´Wireless 4K HDMI without quality loss or noticeable delay to up to 4 screens at the same time. Works anytime, anywhere. We are very proud of that!'
Situation

Suppose you have a meeting room, auditorium, canteen, lecture hall or other presentation room where presentations are often given to large groups of people. You want everyone to be able to follow the presentation properly. You use different screens to convey your story. How do you connect all these screens to one laptop without extra cables across the floor? This is now very easy with the TV Anywhere Wireless 4K Pro – wireless 4K HDMI extender. Of course, this 4K HDMI extender is also very suitable for use in a canteen, café, pub or other public space to watch a football match or other sporting event on multiple screens.

Wirelessly connect multiple TVs to one laptop

The TV Anywhere Wireless 4K Pro HDMI extender has one HDMI transmitter and one HDMI receiver. If you want to connect multiple screens wirelessly to one laptop at the same time, you'll need extra HDMI receivers. These are available separately. Up to 3 additional HDMI receivers can be used in one set. So you connect a maximum of 4 screens wirelessly with one set + 3 extra HDMI receivers.

Easy installation

The TV Anywhere Wireless 4K Pro HDMI set consists of a 4K HDMI transmitter and 4K HDMI receiver. You connect the HDMI transmitter to a laptop and the HDMI receiver to a screen or projector. The HDMI transmitter and HDMI receiver make a wireless connection with each other. Wireless presentation from the laptop on a large screen is made as easy as possible. No need to install any software or connect to a network. It's plug & play!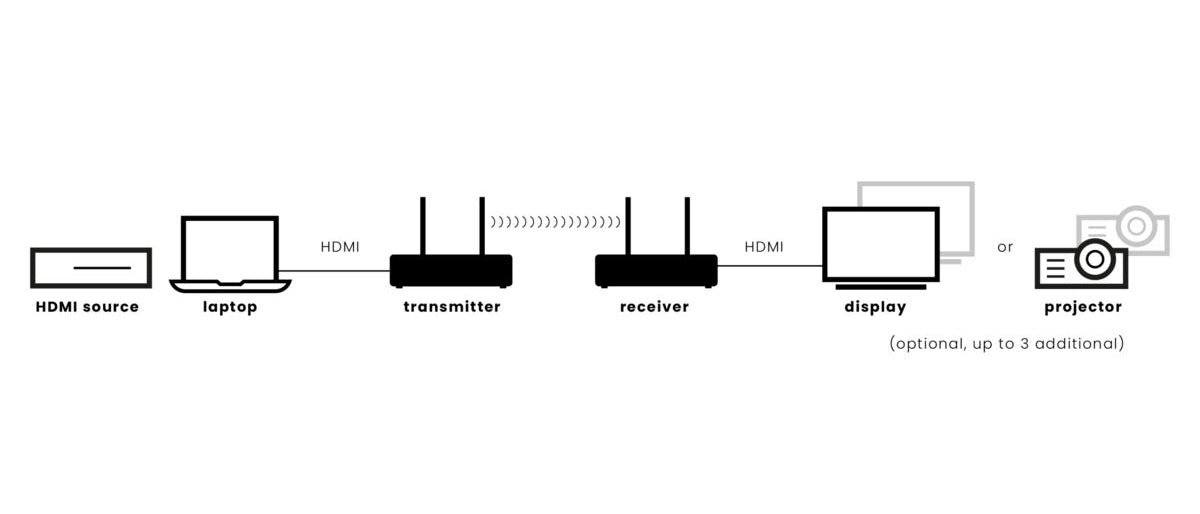 Benefits of the TV Anywhere Wireless 4K Pro
Wireless HDMI signal transmission (up to 50 m) through walls and ceilings.
No quality loss or noticeable delay. Supports video resolutions up to 3840 x 2160p (4K60 Ultra HD).
Connect up to 4 screens wirelessly. Control equipment remotely (IR return).
Connect a keyboard and mouse to the HDMI receiver and control a PC or laptop remotely. (KVM)
The loop-through connection (HDMI loopthrough) sends a copy of the AV signal to a local display or projector.
4K video upscaling for low resolution video sources.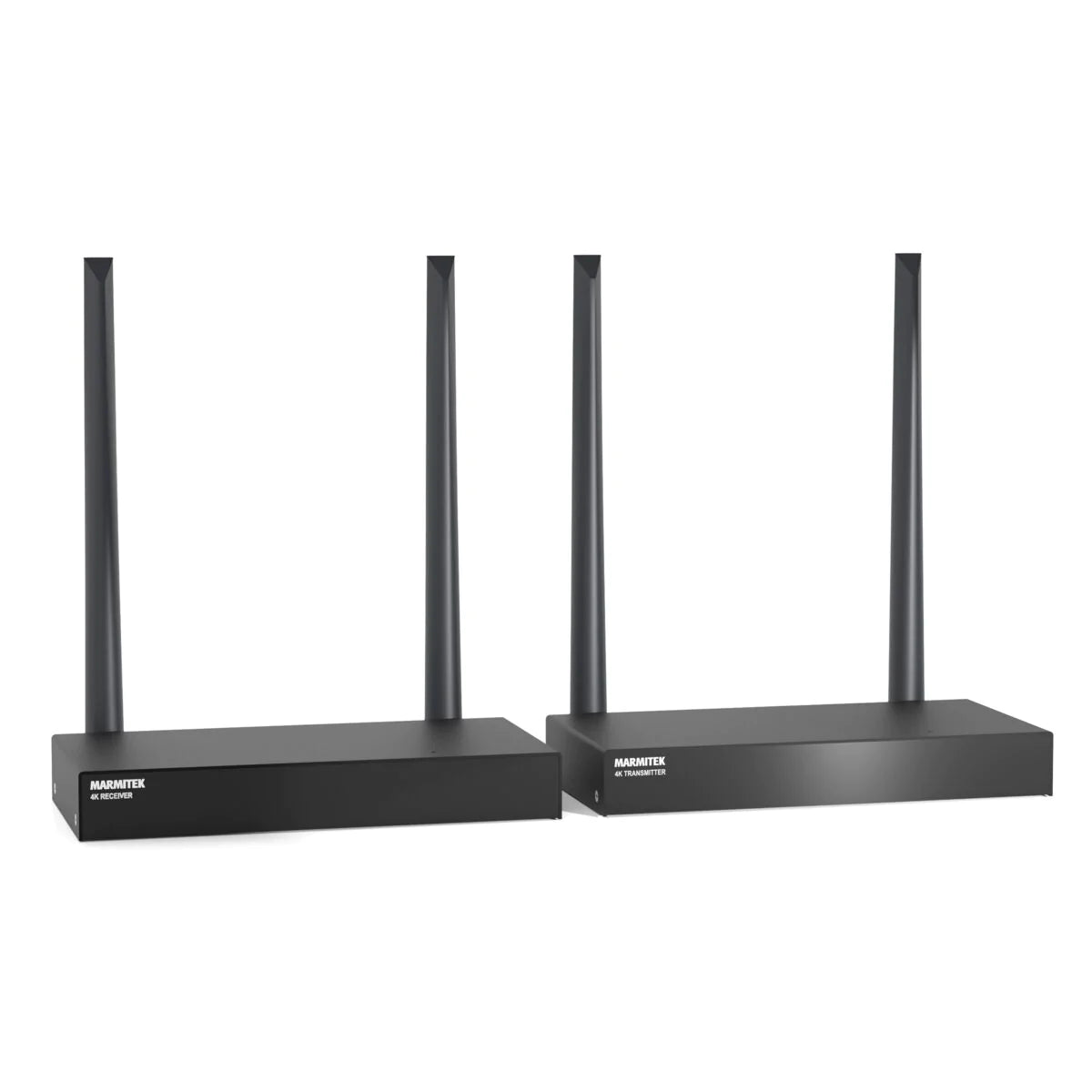 TV Anywhere Wireless 4K Pro
The TV Anywhere Wireless 4K Pro & TVAW4K RX (additional HDMI receiver) are available for €449.99 & €229.99 respectively. Are you looking for a wireless 4K HDMI extender but don't necessarily need to connect multiple screens at the same time? Then the TV Anywhere Wireless 4K is for you. This is available for € 379.99.
MARMITEK. STAY CONNECTED.
Why choose Marmitek?
All our products have been extensively tested and meet the high quality requirements that we and our customers set for our products.
We have been offering the best solutions for image and sound transmission at an affordable price for 25 years.
We make products accessible to everyone; all our products are plug & play.
We are always ready to help you find the right solution for your situation.