BoomBoom 460
BoomBoom 460
Bluetooth receiver with digital amplifier
Always included
Bluetooth audio receiver

Mini-jack audio cable | 80 cm

Micro USB to USB cable | 80 cm

Power cable | 150 cm

Power adapter
BoomBoom 460
BoomBoom 460
Bluetooth receiver with digital amplifier
In stock
Connect a pair of good (passive) speakers to this Bluetooth receiver and amplifier in one and pair it with your smartphone. This enables you to create your own streaming system anywhere in the house with the BoomBoom 460. Perfect quality at a low price. With additional AUX input for use with PC or mp3 players without Bluetooth. Compact design with solid aluminium housing and simple operation.
AptX
Speaker output
Additional AUX input
Built-in amplifier
View full details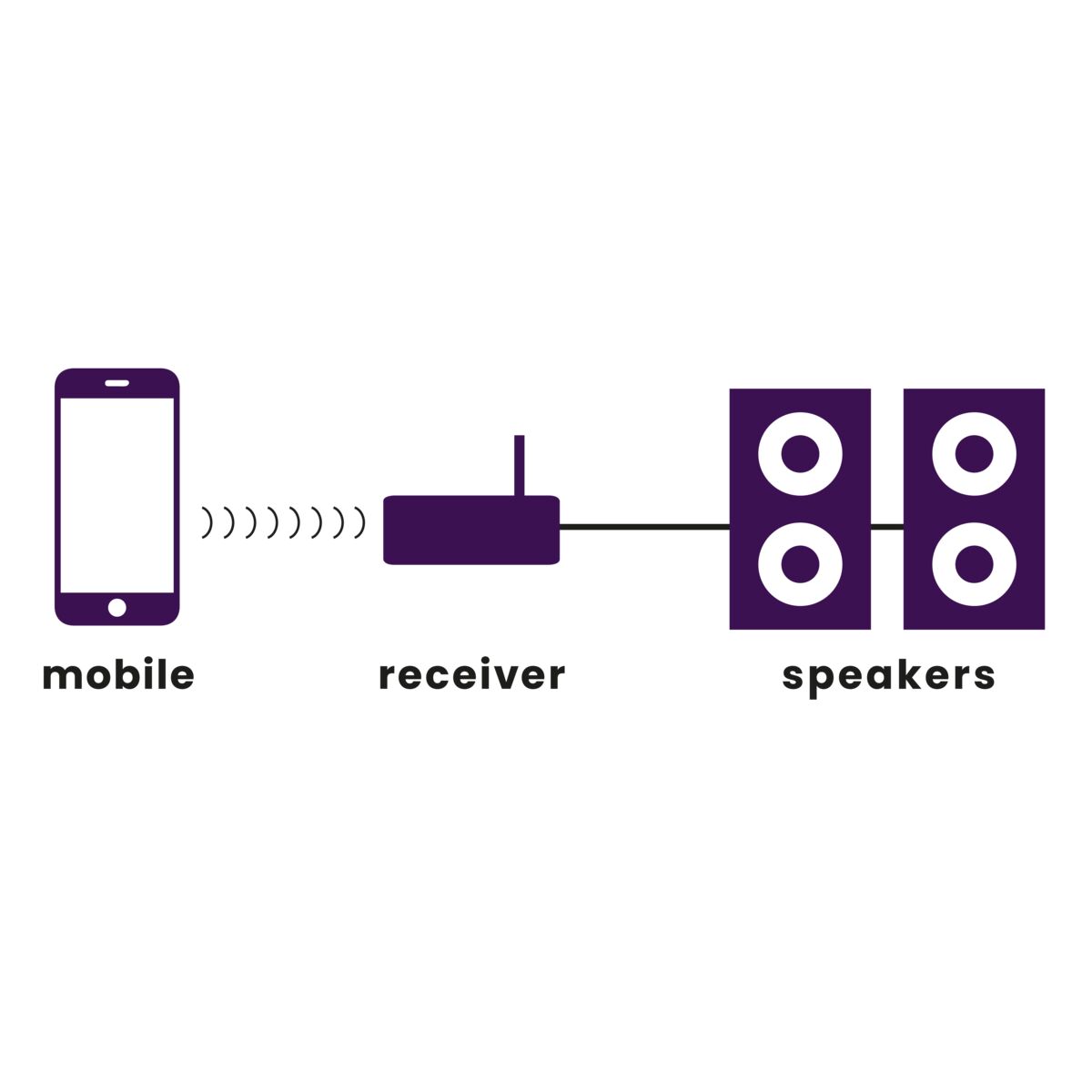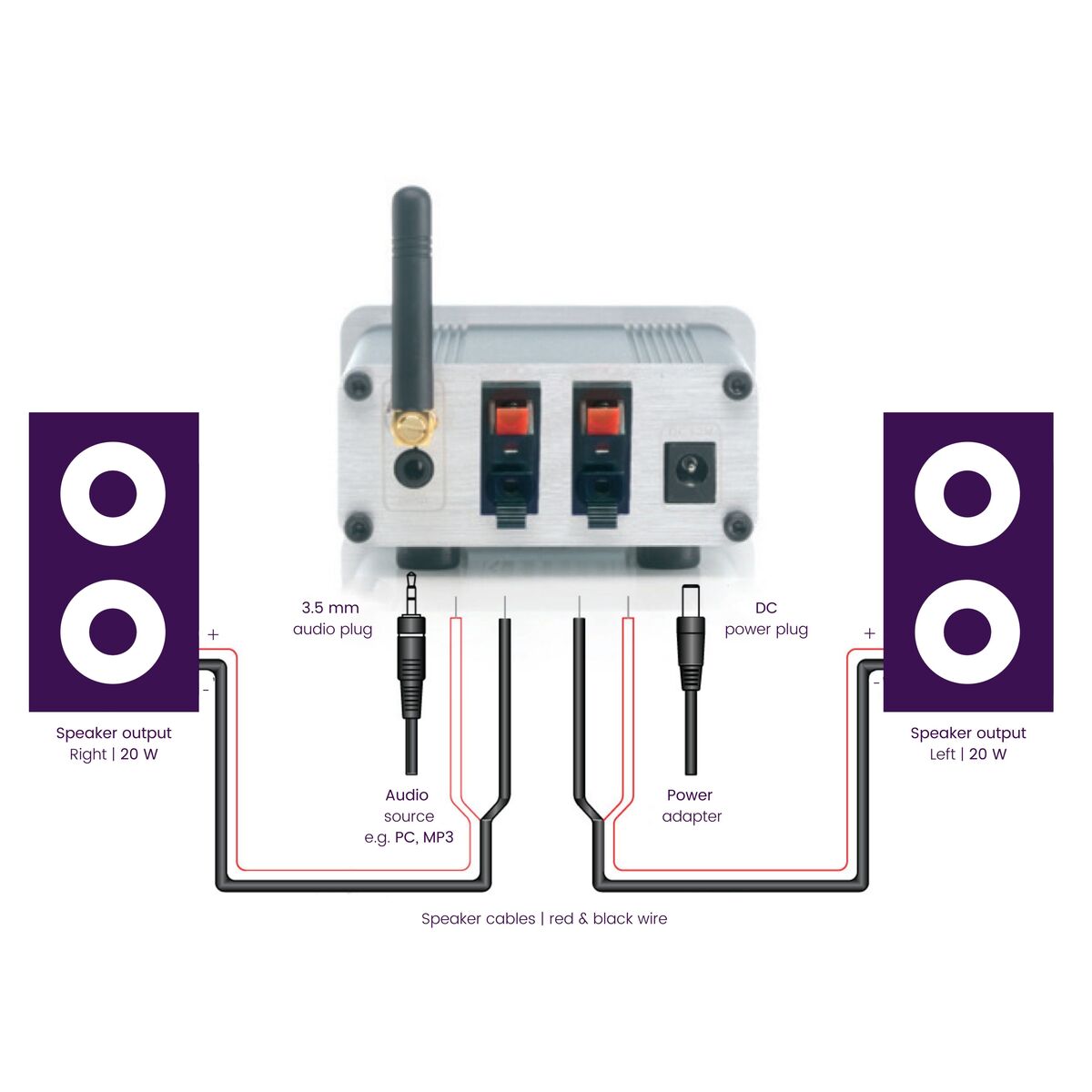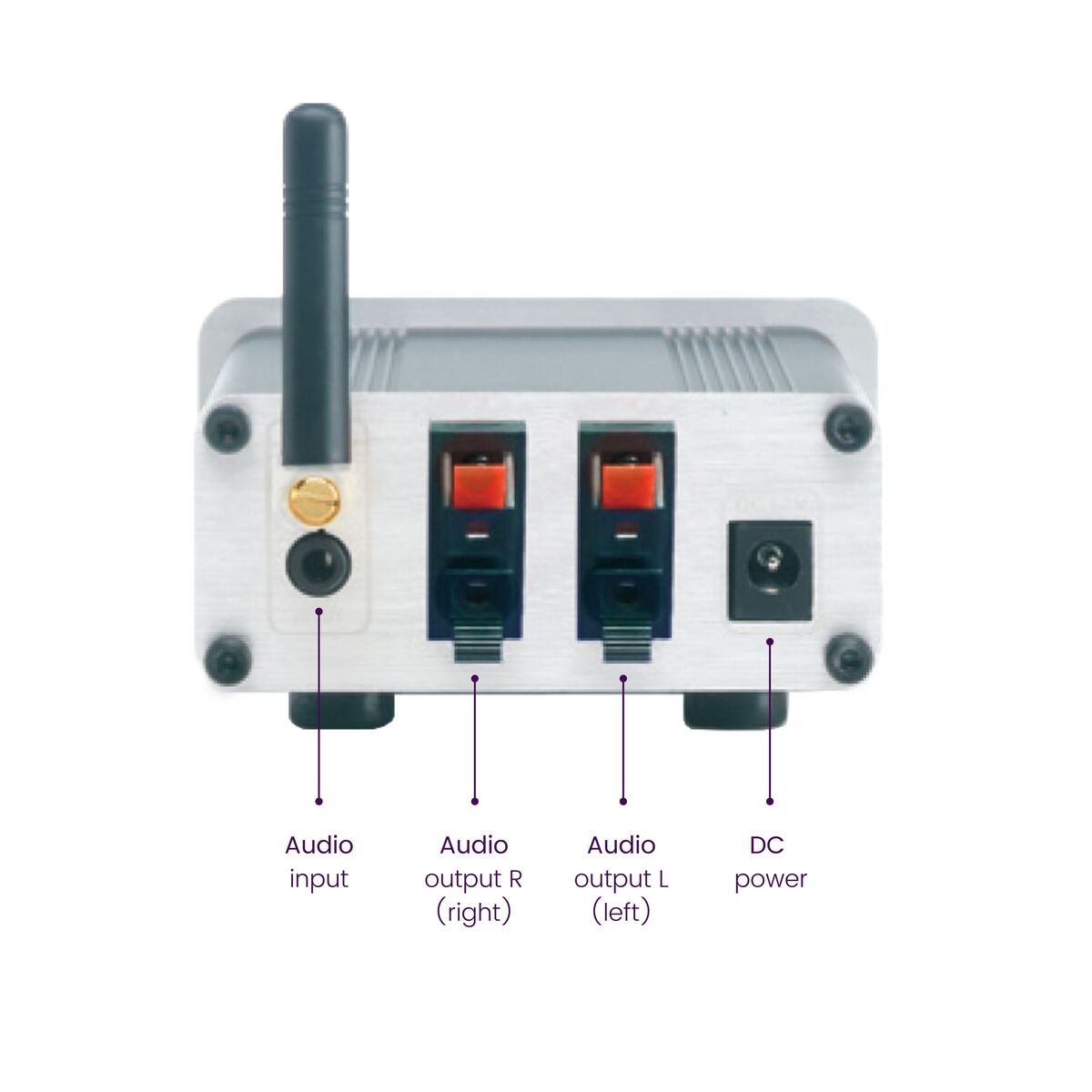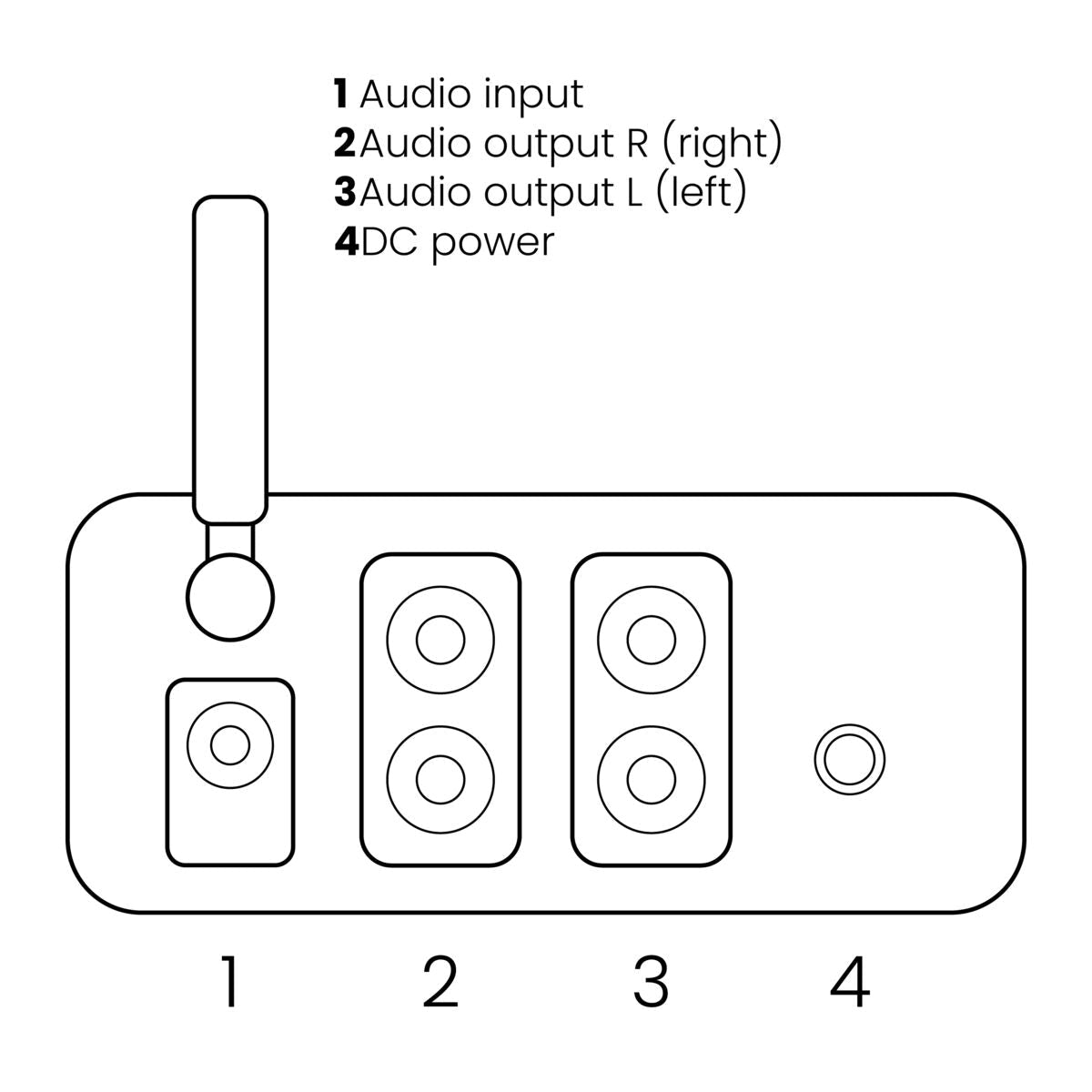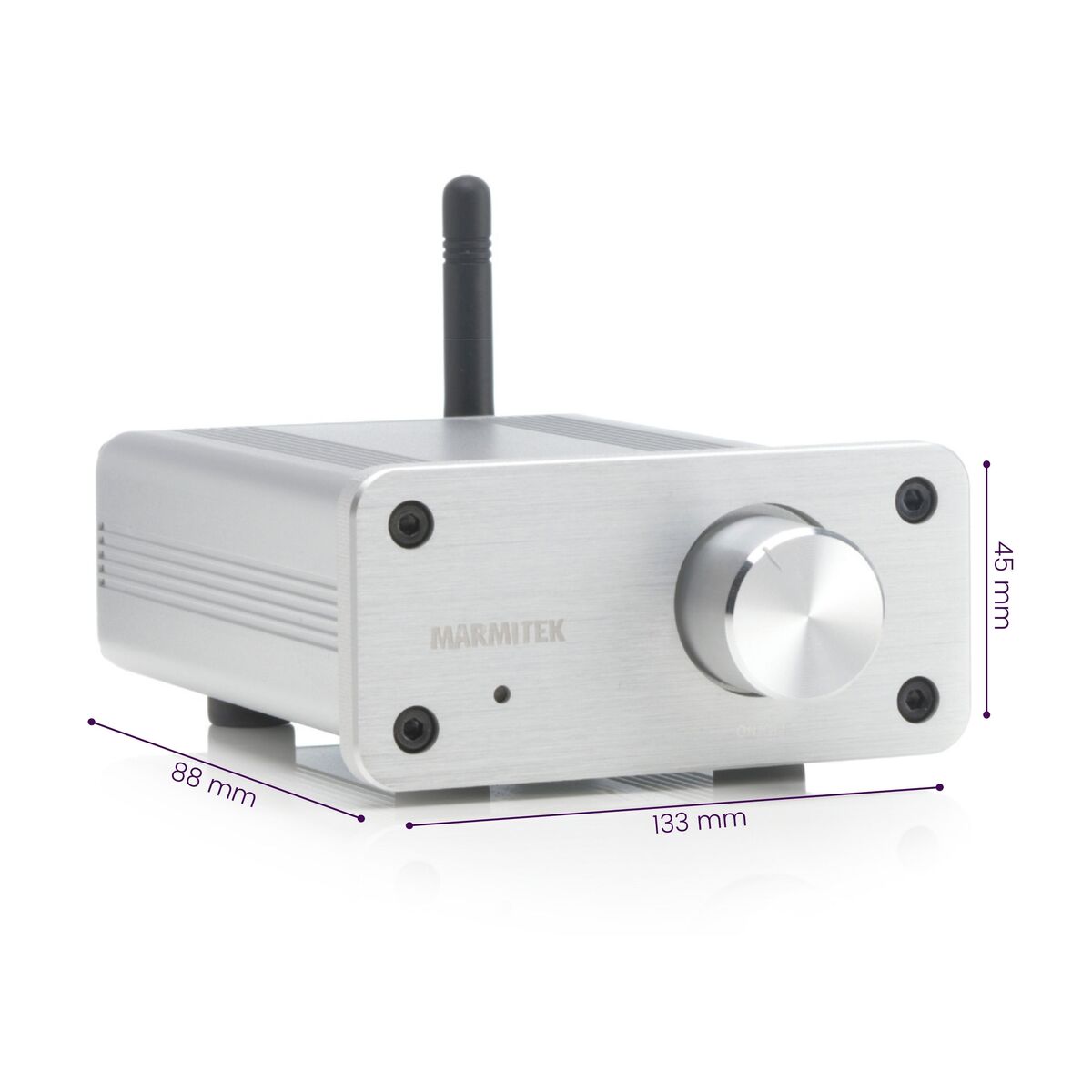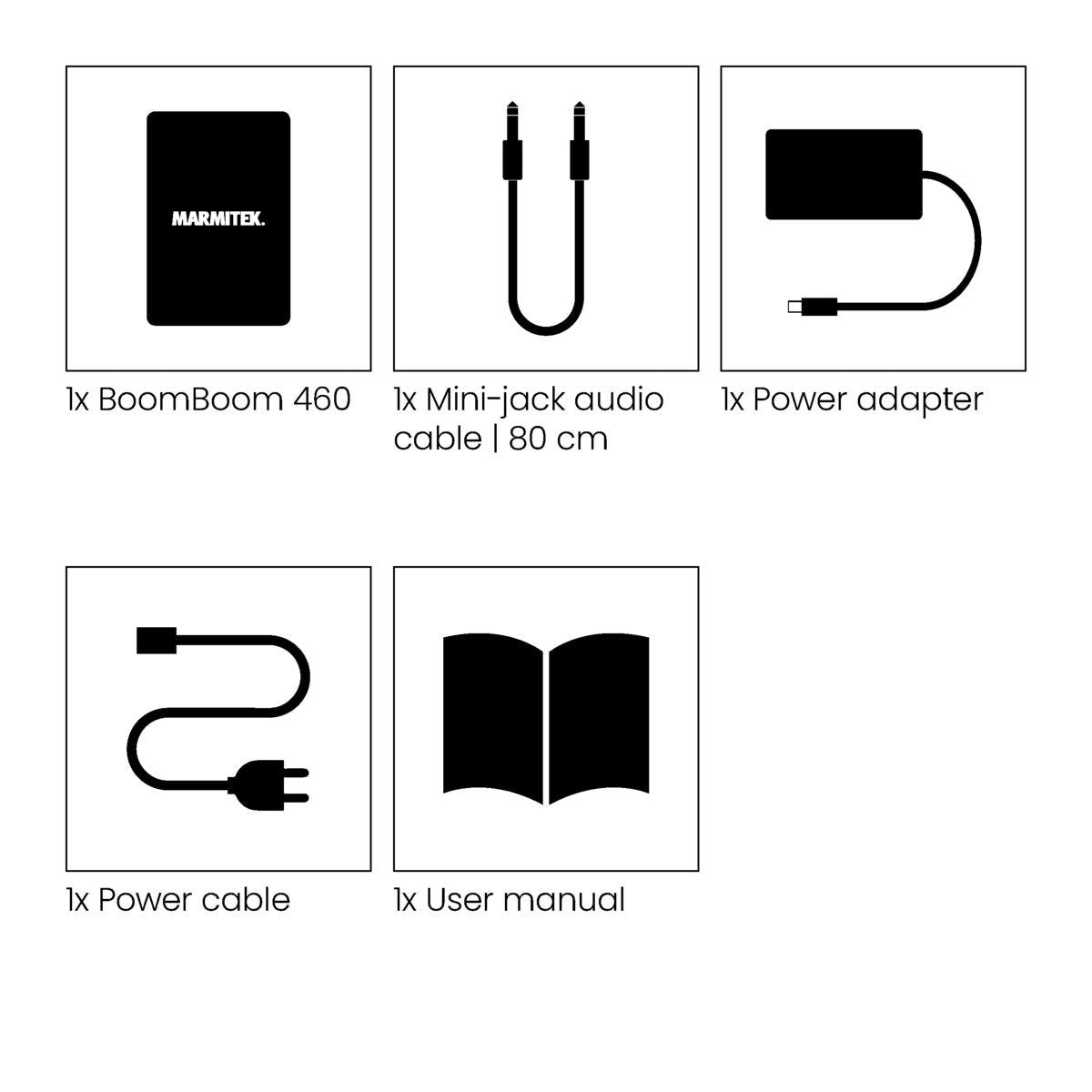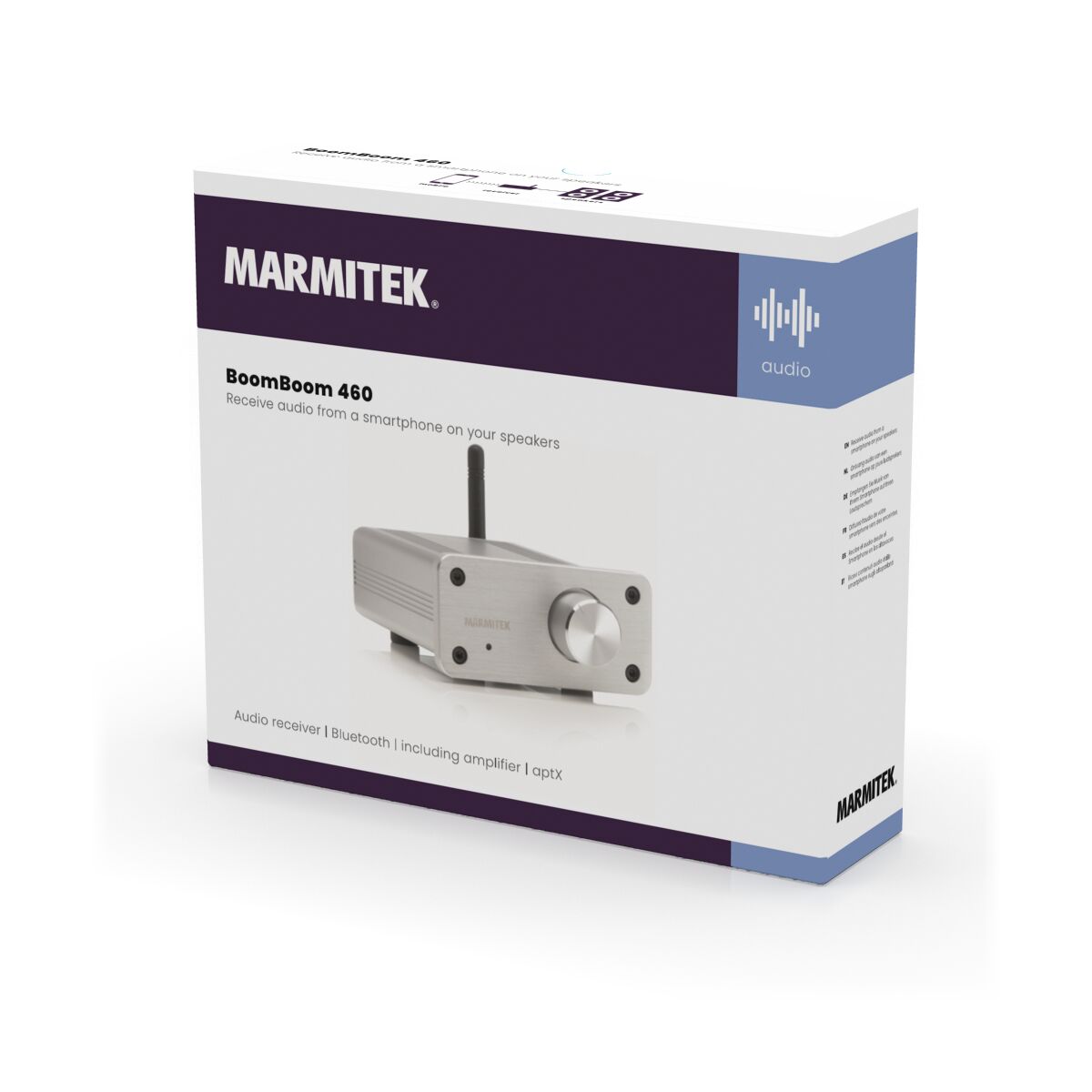 BoomBoom 460
Product description
Give your (passive) speakers a second streaming life.
Listen to music or internet radio from your smartphone or tablet directly on your own passive speakers.
The unique combination of a Bluetooth receiver and the superior digital amplifier delivers 2x 20 W RMS, sufficient for the most critical applications.
Allows you to reuse your old passive speakers.
Can be used with every speaker in every situation: mounted in the kitchen, bath, bedroom or study, but also for outdoor speakers.
Includes latest aptX technology for superior sound quality.
With extra AUX input for use with PC or MP3 players without Bluetooth.
Compact design with solid aluminum casing and simple operation.
With this Bluetooth receiver and amplifier in one, you can do great things!
Connect a couple of good (passive) speakers and your smartphone wirelessly to the BoomBoom 460 and create your own streaming system anywhere in the house. Perfect quality at a nice price.
Technical specifications
Interface audio input
3.5mm jack stereo
Interface audio output
Speaker outputs
Dimensions (H x W x D)
45 x 133 x 88 mm
Ambient temperature
-5 °C ~ +40 °C
Storage temperature
-10 °C ~ +55 °C
Rest Power Consumption
< 2 W
Power
100-240 VAC 50/60 Hz, 12 VDC adapter (included)
Audio Frequency Response
20 Hz - 20 kHz (± 3 dB)
Bluetooth Profiles Supported
A2DP
Bluetooth Version
Bluetooth 3.0 + EDR, Class 2
Codec Supported
AptX, SBC
Range
Up to 10 meters with Class 2 source and up to 30 meters with Class 1 source
Audio Delay
AptX 60 ~80 ms, SBC 170 ~270 ms
Pair Memory
Up to 8 devices
Reviews
Frequently asked questions
Can I link numerous devices to my BoomBoom 460?

The BoomBoom 460 can remember up to 8 paired devices. Therefore, re-pairing with each subsequent connection is not required. If a 9th device is paired with the BoomBoom, the first smartphone that was paired with the BoomBoom will be erased from its memory.
Which drivers do I need if I connect the BoomBoom 460 via Bluetooth to my PC?

If you connect a Bluetooth dongle to your PC, Windows will recognise it immediately. However, only the basic functions such as exchanging files will work. Drivers are often supplied with a dongle or they are available on the manufacturer's website. You will also have to install these. The dongle recognises the BoomBoom 460 as a Bluetooth headset. The music will play automatically via the BoomBoom 460. Even with a PC or laptop with built-in Bluetooth, it may be necessary to install the correct drivers in order to facilitate music transfer.
What is the minimum speaker impedance?

The minimum speaker impedance is 8 Ohm.
No Sound.

Please, ensure that the:

BoomBoom 460 and Bluetooth device has been paired up.
AC adaptor is fully inserted into the AC outlet and the power connection input on the BoomBoom 460. OR:The volume of the BoomBoom is too low. Adjust the volume to an appropriate level.
Distorted sound.

The BoomBoom 460 is too far away from the Bluetooth device. Move them closer together.
Ensure the volume level of the BoomBoom 460 is adjusted properly.
Can I adjust the high and low tones in the BoomBoom display?

On a Windows PC, the taskbar often contains a sound control icon which you may click to adjust the high and low tones. However, this depends on the type of audio card in the PC. The commonly used VLC Media Player also has a built-in equalizer. Make sure you are playing music with VLC Media player, then go to Tools, Effects and Filters and choose audio effects. On a smartphone or tablet this is highly dependent on the app used to play music. For example, there are MP3 apps with a built-in equalizer which even allow you to select pre-set frequency adjustments, such as Bass,Treble Boost. Equalizer apps are also available. These enable you to make the most of the music or audio from your phone or tablet and to set up a personal audio experience.
What is SBC?

SBC (Low Complexity Subband Coding) enables you to wirelessly listen to audio with reasonable sound quality. SBC is the standard method to send audio via Bluetooth.
What is aptX?

This audio compression solution retains the full integrity of original digital audio and is optimised for instant real-time audio streaming. The suite of algorithms has earned a reputation for some of the highest audio quality, extremely low latency and strong resilience to bit errors, and has been proven in wireless, broadcast and professional live performance applications. The best result is achieved when playing lossless audio files (eg FLAC). Using MP3, you get the best results if the Bitrate is 256kbps or higher.
What is aptX Low Latency?

AptX Low Latency ensures a very short audio delay of less than 40 ms. With a regular Bluetooth connection, this is more than 100 ms. Both the transmitter and the receiver must have aptX Low Latency to be able to use this feature. With the BoomBoom 55 and 77, the LED lights up green to indicate an aptX Low Latency connection.
What AAC?

AAC (Advanced Audio Coding) - AAC is supported by iOS devices. Apple implements AAC via Bluetooth at about 250 kbps.
Need help?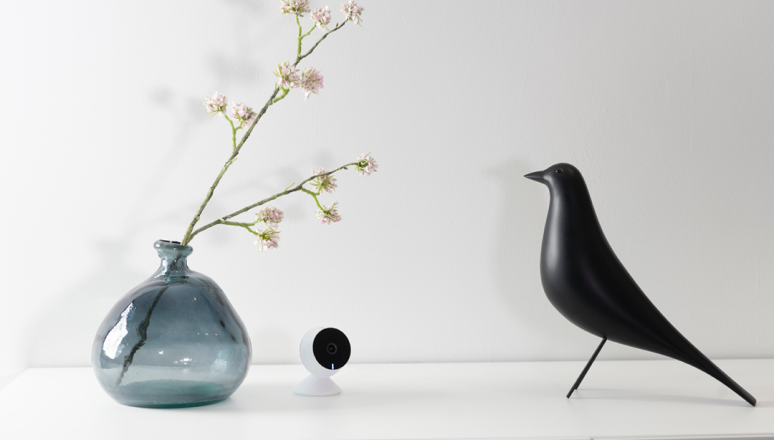 NEED HELP?
WE ARE HERE TO HELP YOU!
If you have any questions about our products or our services, do not hesitate to contact our customer service. Our employees are ready to help you and answer your questions.