Always included
HDMI transmitter 4K

HDMI receiver 4K

IR emitter cable | 150 cm

Micro-USB to USB cable | 80 cm

2x 4K HDMI cable | 150 cm

2x Power adapter
In stock
With the TV Anywhere Wireless 4K you can enjoy wireless HDMI within mere seconds. This wireless HDMI extender offers wireless HDMI (4K) from, for example, a TV decoder to a TV or projector. The signal even goes 50 metres through ceilings and walls without any loss of quality, interference or noticeable delay. Watch TV anywhere in and around your house without having a television connection at that specific location and place your TV wherever you want. No need to pull cables anymore!
4K60 Ultra HD Wireless, up to 50m
Range - Entire House
Loopthrough Function
Receive a 25% discount on the accessories below
25% discount on this accessory(s)
Total amount of this bundle
€ 394,98
View full details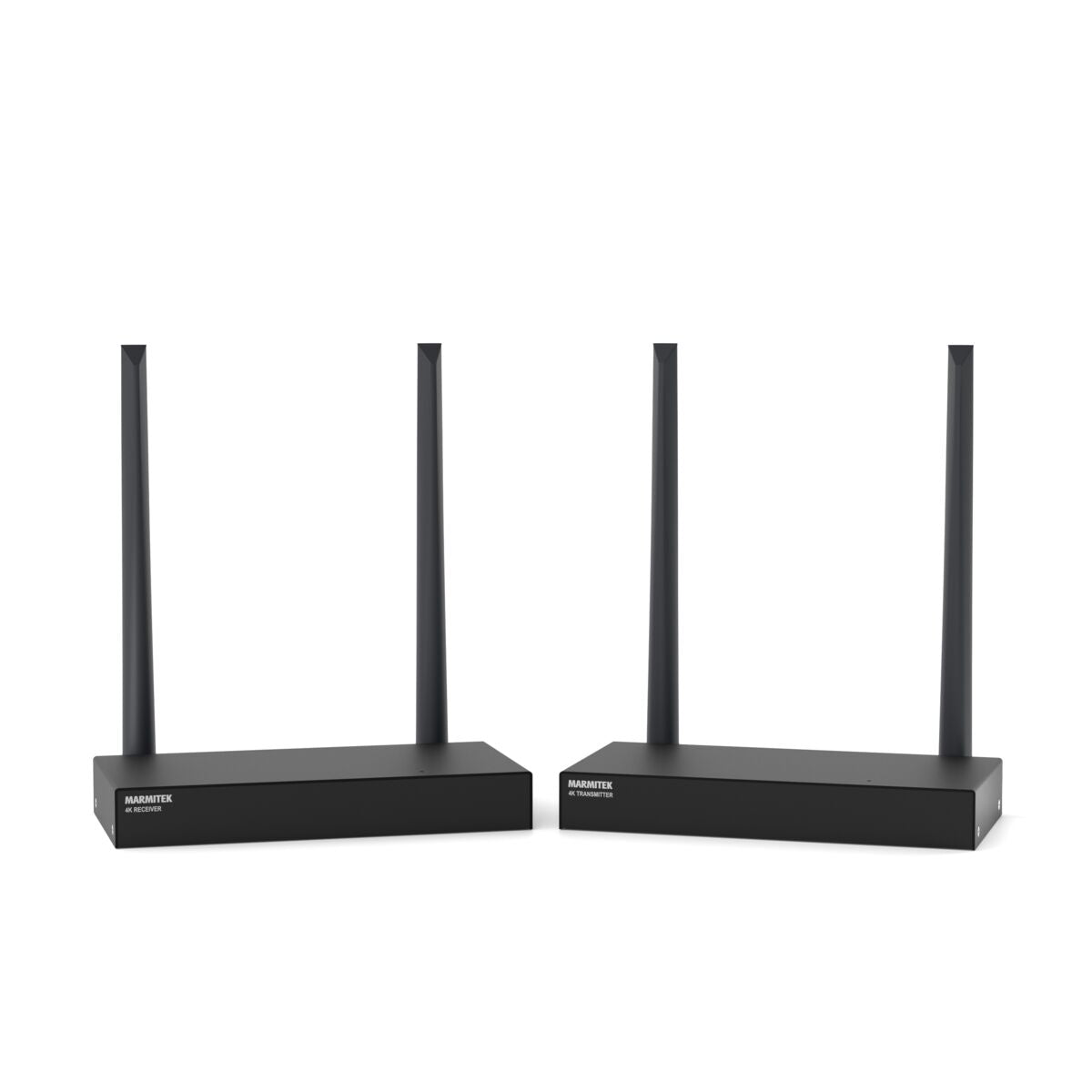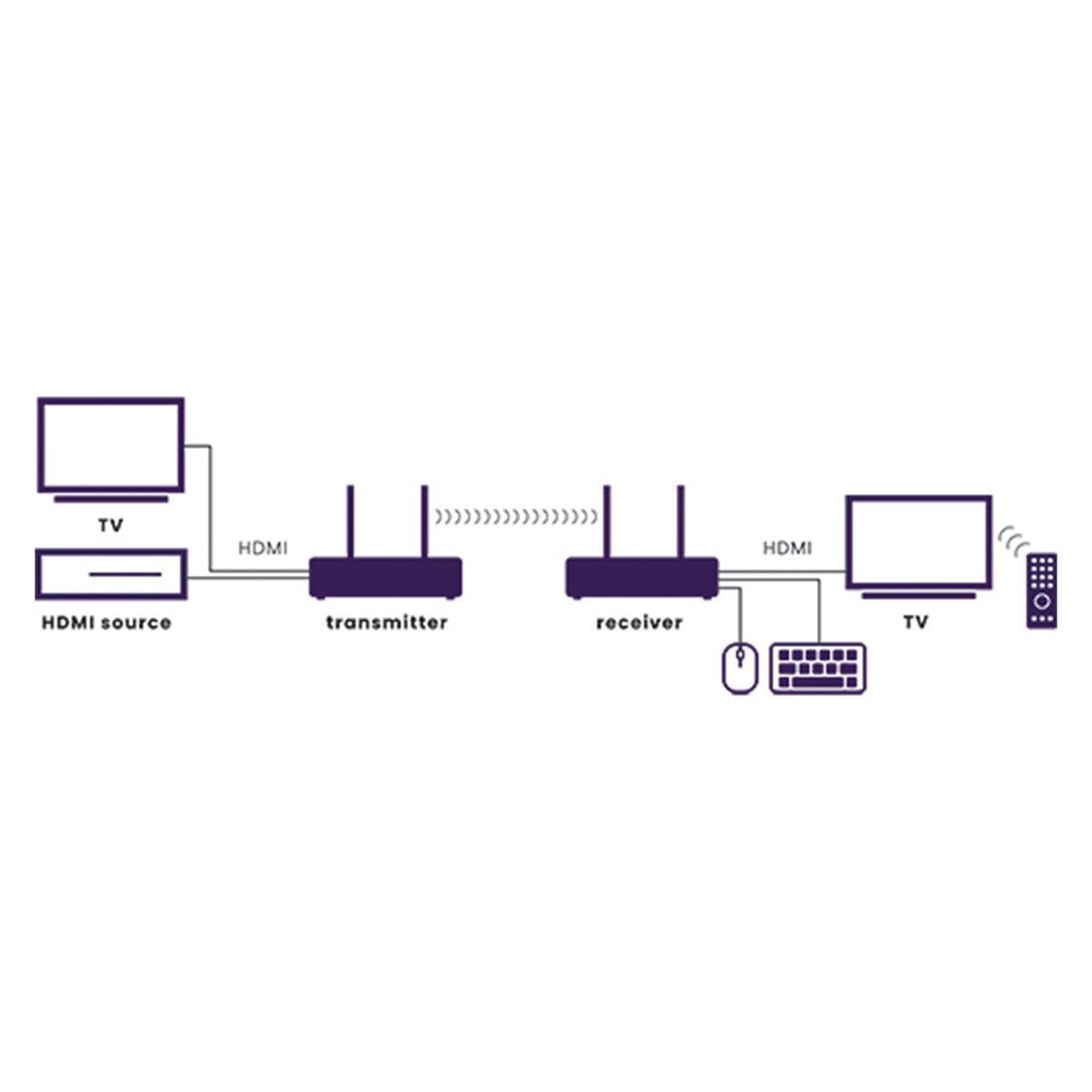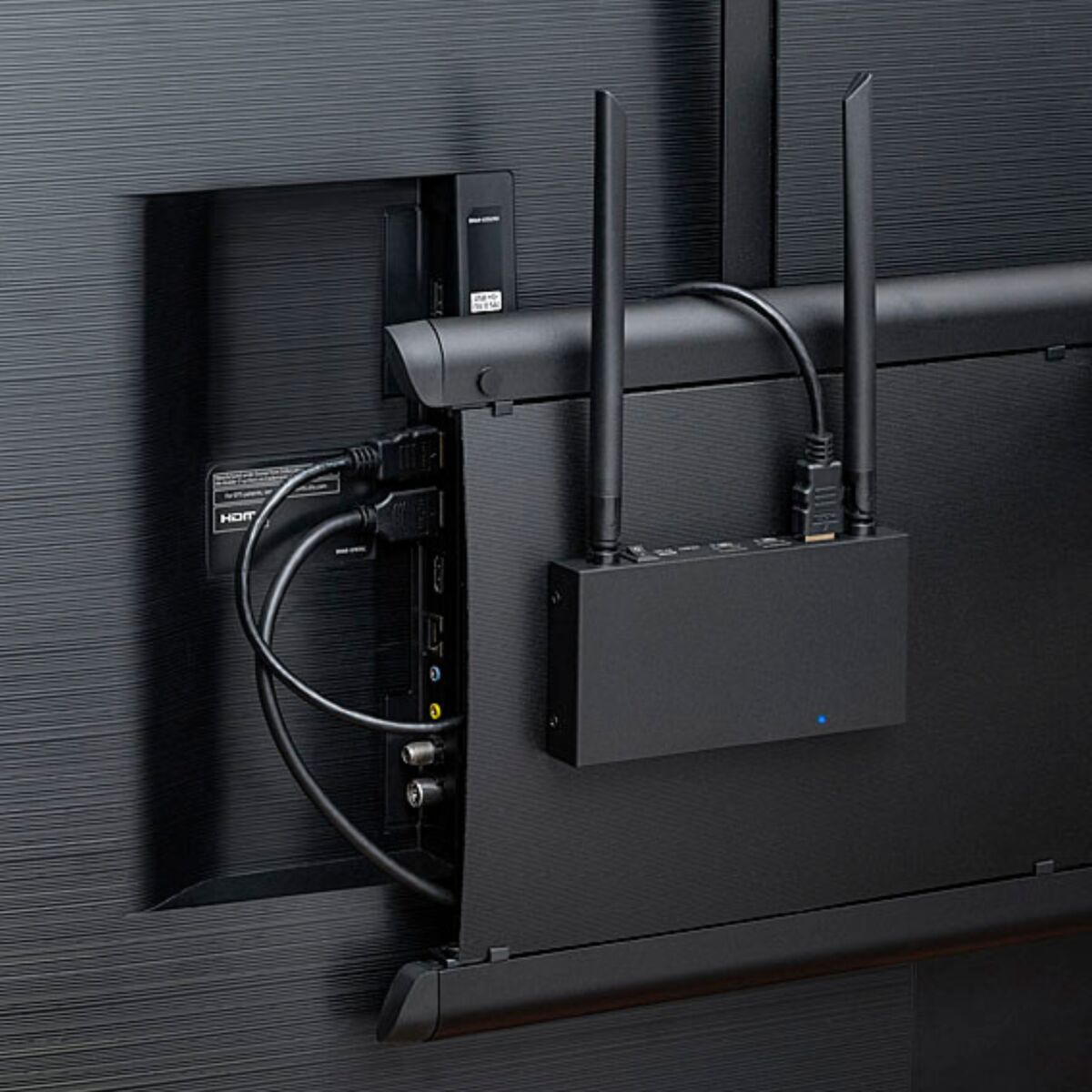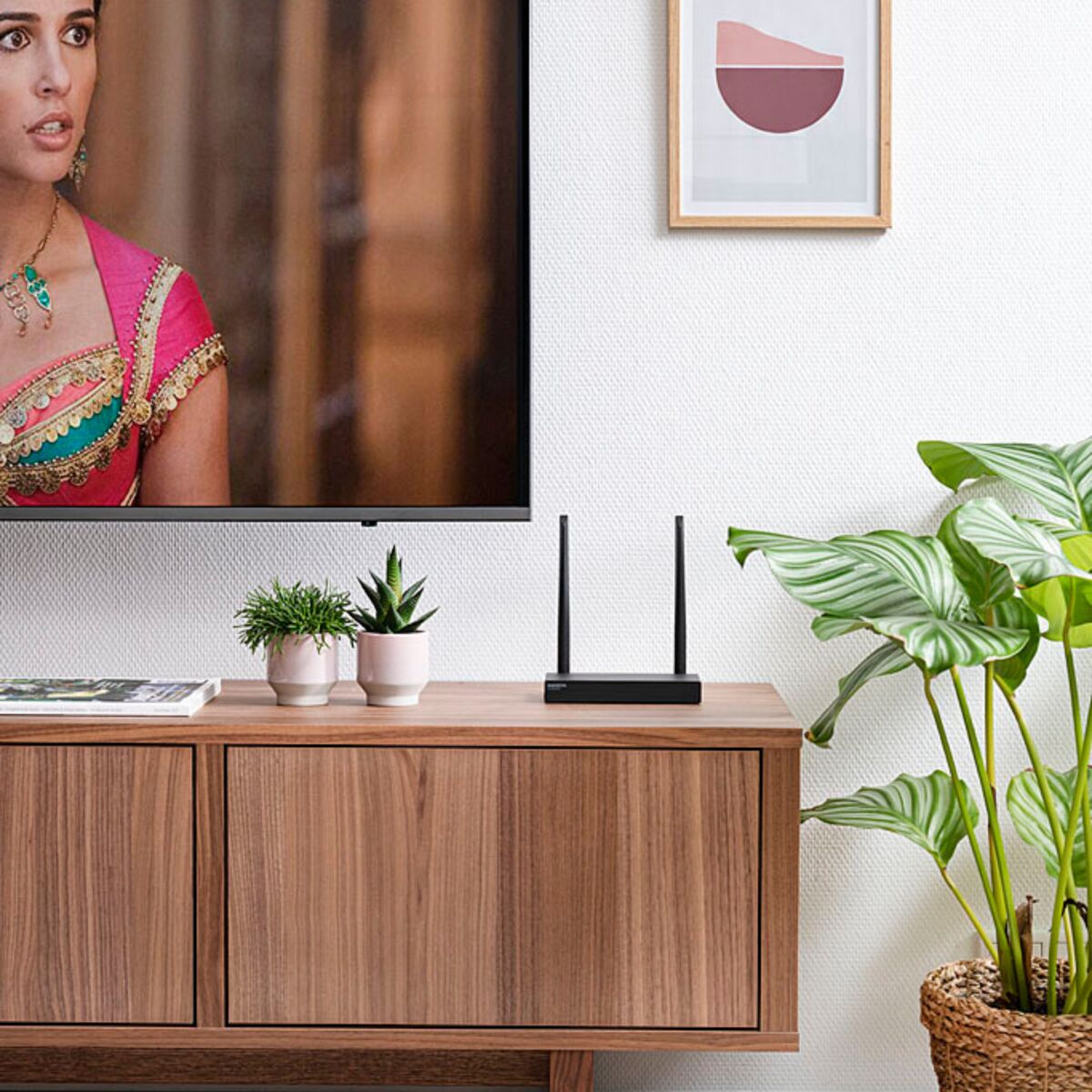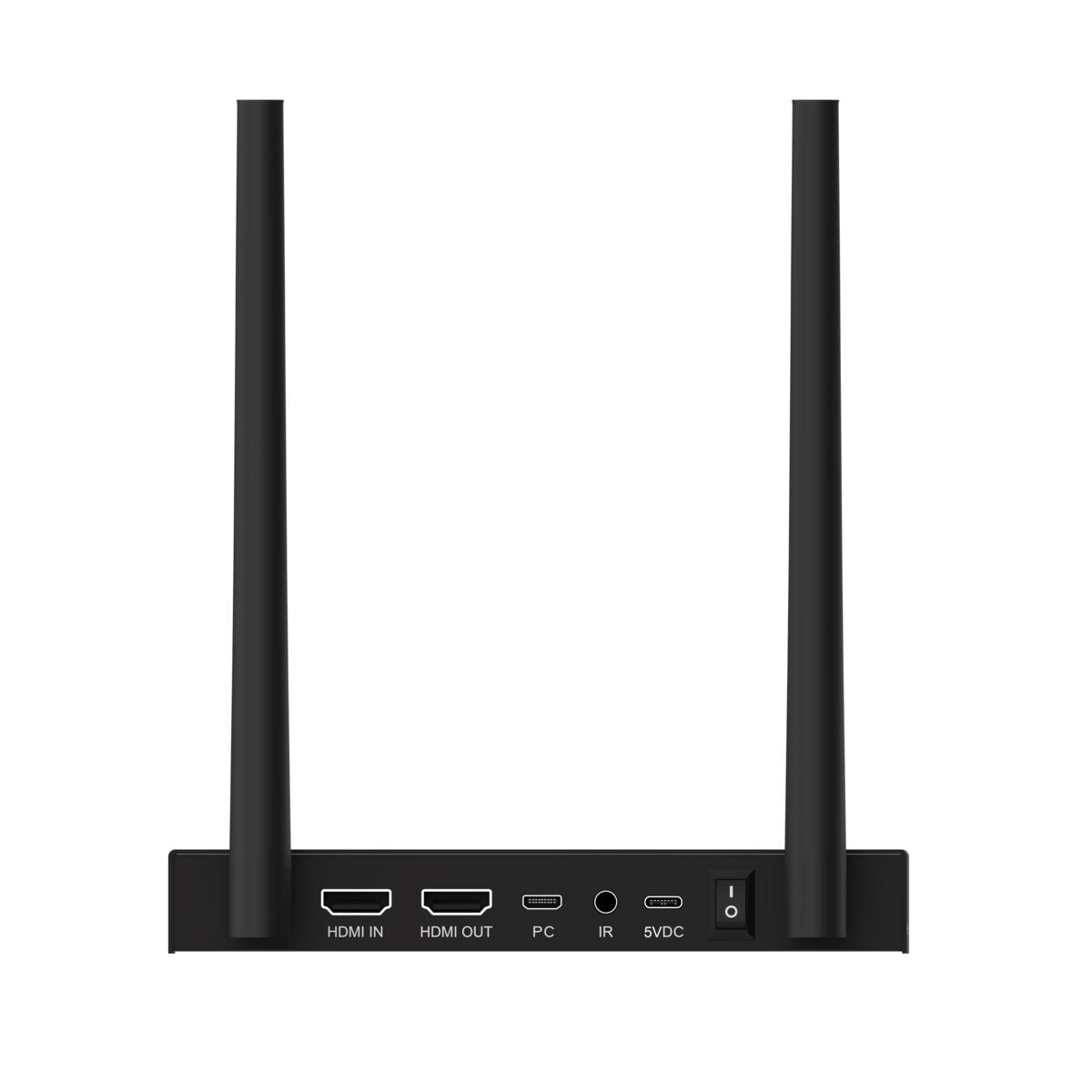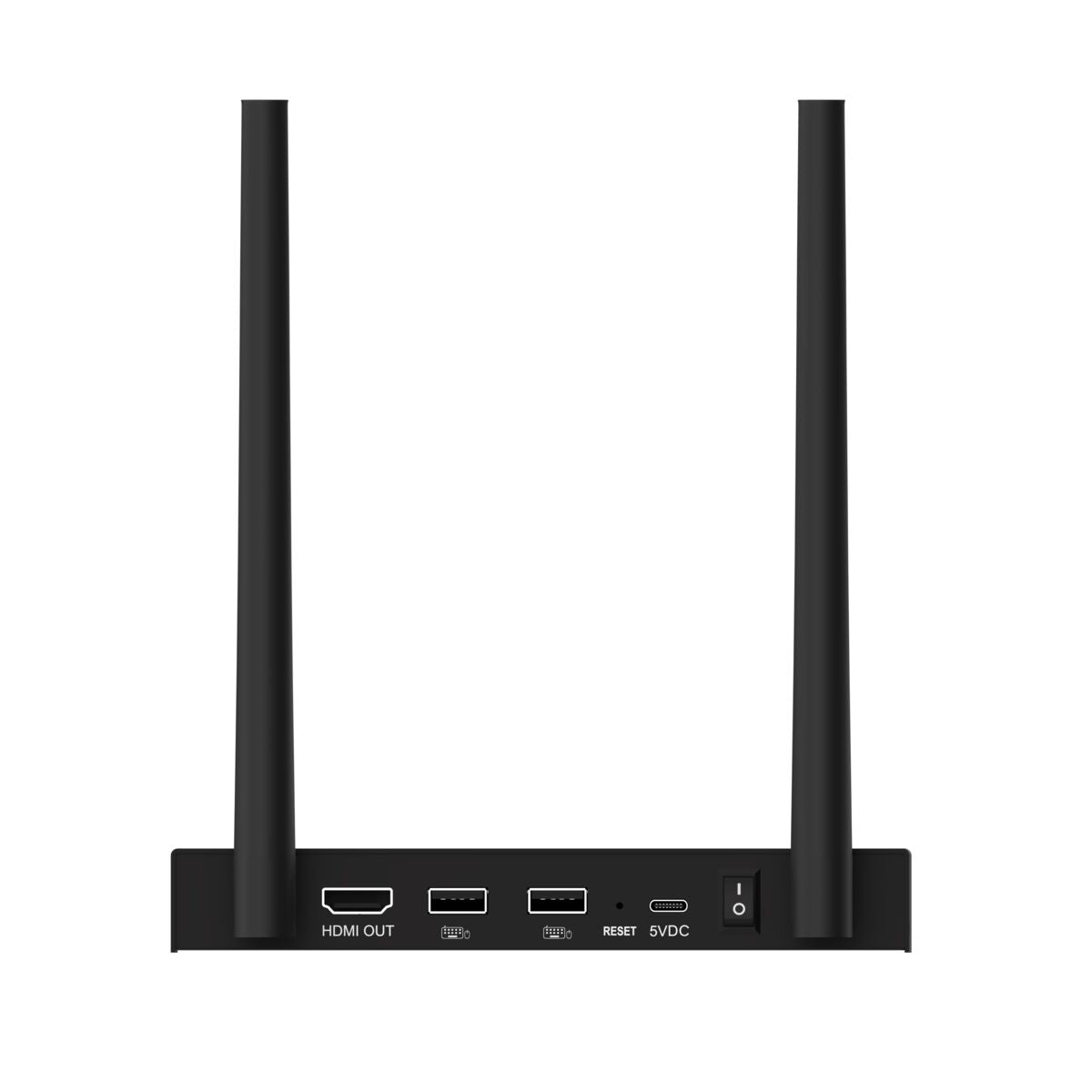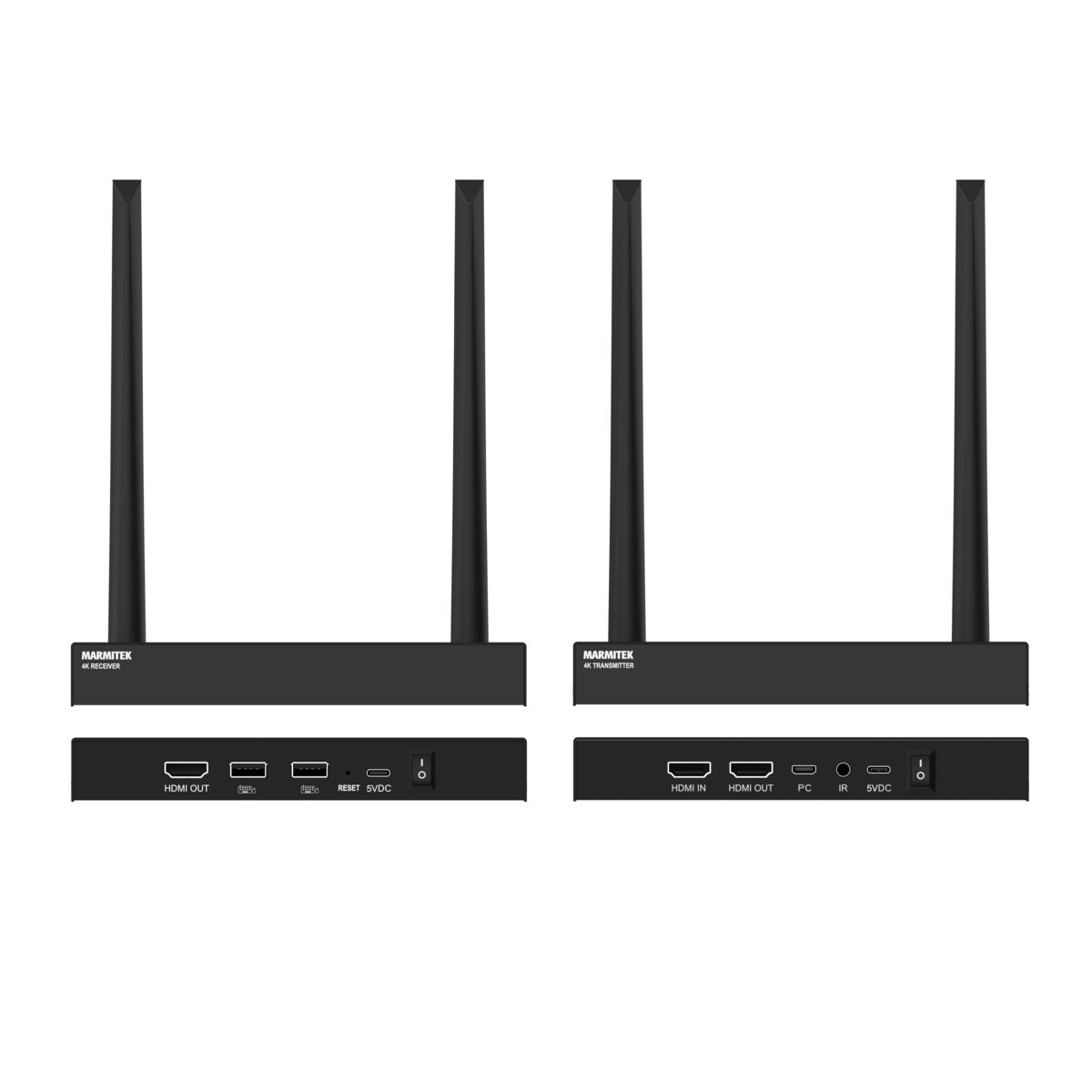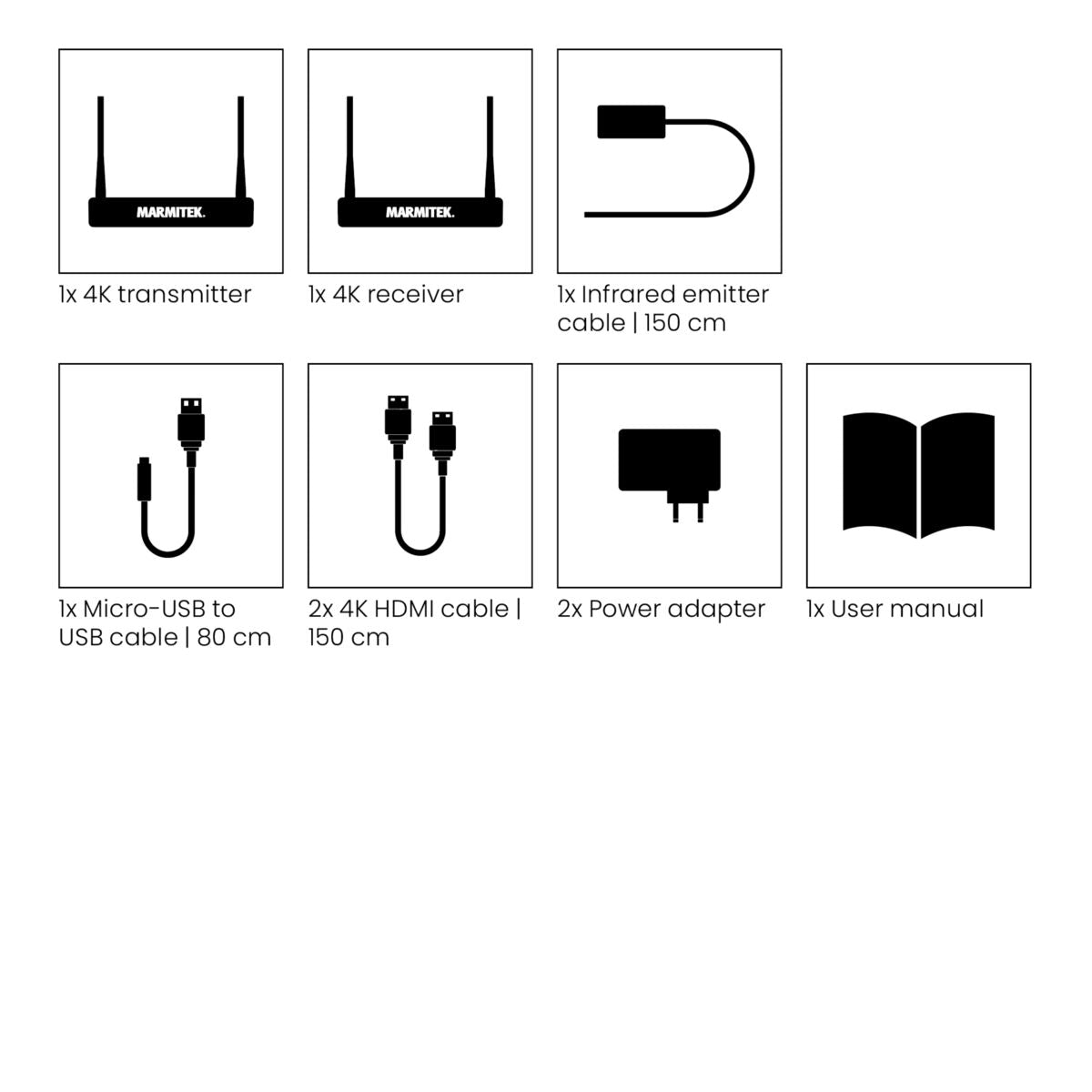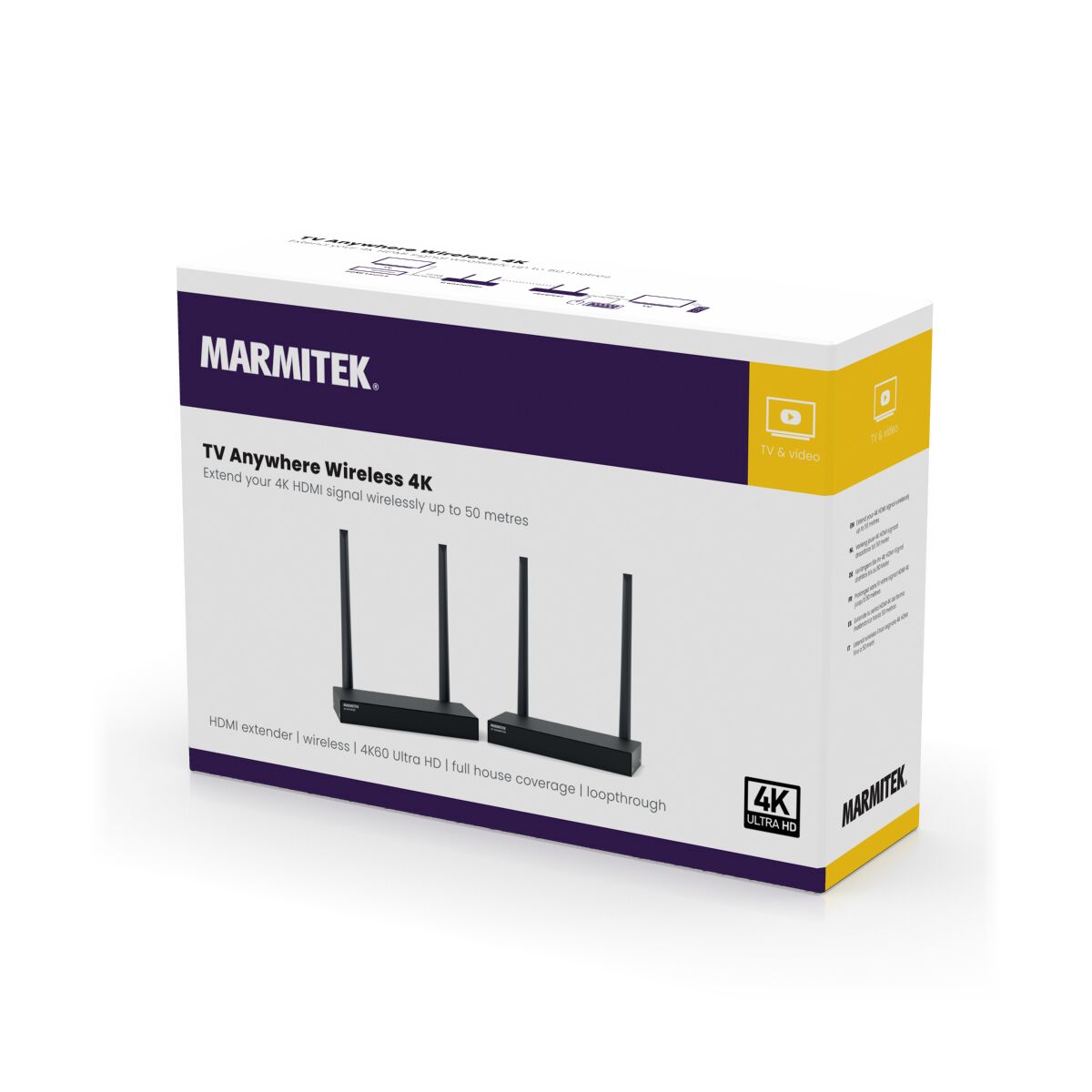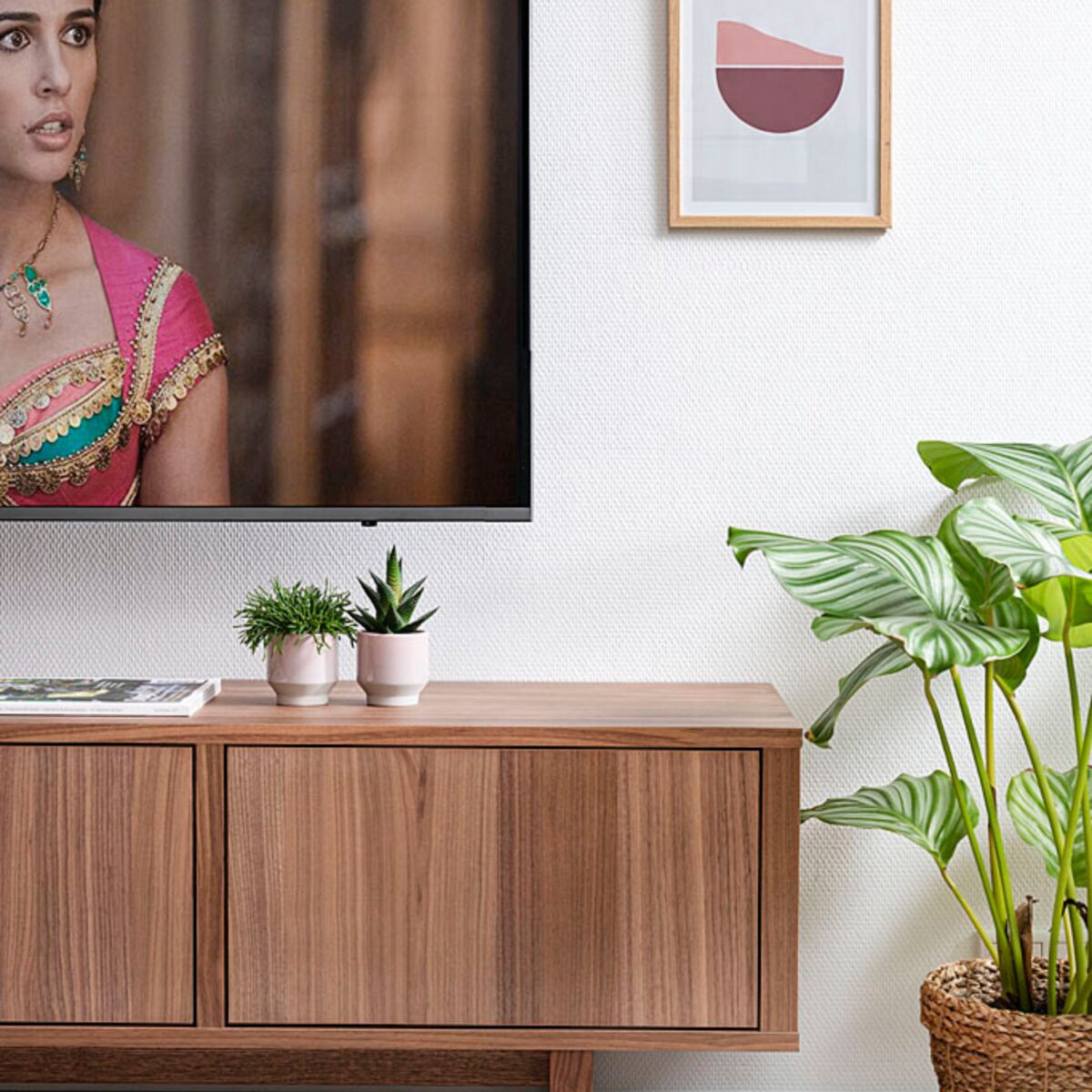 TV Anywhere Wireless 4K
Product description
Watch TV anywhere in your home, without laying any cabling!
Wireless HDMI signal transfer (up to 50m) through walls and ceilings without quality loss or noticeable lag.
Supports video resolutions up to 4K60 (Ultra HD).
Watch your favourite TV programmes or films from your decoder, media center PC or Blu-ray player in Ultra HD quality on a 2nd TV/projector anywhere in the home.
Operate your AV equipment remotely using the infrared return feature.
Connect your keyboard and mouse to the receiver to control your PC remotely.
Loopthrough enables you to watch the same content at two locations simultaneously.
Technical specifications
Power supply
100-240 VAC, 50/60 Hz, 5V DC adapter
Infrared input
Built-in IR sensor
USB input
2x USB-A (mouse, keyboard)
Dimensions (L x W x H)
22 x 155 x 77 mm
Operating Frequency
5 GHz
Operating Range
Up to 200 meters LOS (Line Of Sight), up to 50 meters through walls and ceilings
Infrared Frequency Range
30 - 60 kHz
AV output
1x HDMI (loop-through)
Infrared output
1x 3.5 mm connection
USB output
1x Micro-USB (PC, laptop)
Dimensions (h x w x d)
22 x 155 x 77 mm
Video Resolutions
2160p@50/60Hz (4K), 1080p (Full HD), 1080i, 720p, 576p, 480p
PC Resolutions
Max. 3840 x 2160
HDMI Standards
HDMI, HDR, DVI, EDID and HDCP
Reviews
Frequently asked questions
No (or poor) image and sound on TV or projector

Ensure that the ON/OFF switches at the back of the transmitter and receiver are in the ''ON'' position.
Ensure that all HDMI cables are connected properly or replace them.
Ensure that the HDMI source is turned ON and the correct HDMI input is selected on the TV.
Ensure that the HDMI source is set to a correct video resolution. If necessary, consult the user manual of your HDMI source.
Disconnect the power adapters from the wall socket and reconnect them to reboot the TV Anywhere Wireless 4K.
No or bad connection between the 4K transmitter and 4K receiver

Move the 4K transmitter and/or the 4K receiver from the immediate vicinity of the connected HDMI sources and Wi-Fi equipment. These may affect the range.
Slightly adjusting the position of the 4K transmitter and/or 4K receiver may already help out.
Too much distance between 4K transmitter and 4K receiver. Try using shorter distances.
I do have picture, but no (or bad) sound

The TV Anywhere Wireless 4K supports up to 2CH PCM stereo.
Check the audio setting in the settings menu of the connected HDMI source and manually set it to 2CH PCM stereo when the automatic setting does not work.
The IR return function is not working

Ensure that the IR LED is properly plugged in.
Experiment with the location of the IR receiver and IR led cable.
The IR receiver has a reception sensitivity of max. 10 metres.
The range is also dependent on the remote control used.
Need help?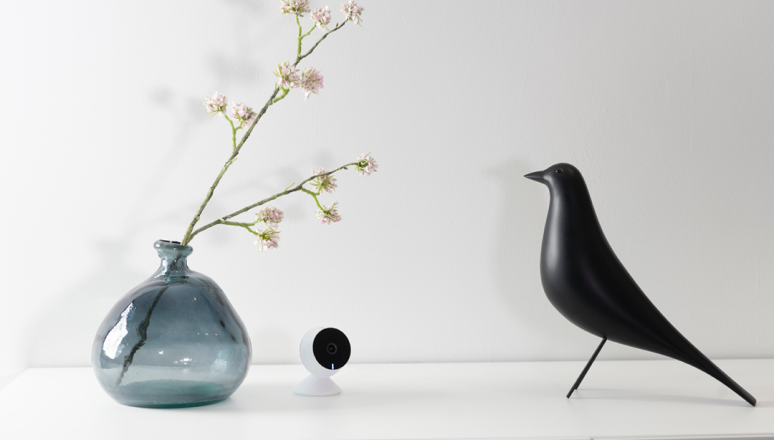 NEED HELP?
WE ARE HERE TO HELP YOU!
If you have any questions about our products or our services, do not hesitate to contact our customer service. Our employees are ready to help you and answer your questions.