Wireless presentation in lecture halls | Academics

Situation

"In every lecture hall there is a large screen that is used by (guest) lecturers to teach often large groups of students. For example, there are several (guest) lecturers present in a lecture hall every day who use different types of laptops. That is why that we were looking for a one-fits-all solution to transfer images from a laptop to a screen: easy to use and preferably truly plug and play."

Want

"A cable-free HDMI cable that transfers images at least Full HD without hassle."
Current solution

"An HDMI cable should suffice for this, but you still use cables and for MacBooks you even need all kinds of dongles. We were looking for a cable-free variant and found it by hanging an Apple TV behind it. Unfortunately, that works not on Windows laptops and Chromebooks. A Chromecast has also been tried, but it lacks the functionality of the extended desktop. And the quality of the image was also not sufficient. So we sometimes had to resort to a spare/loan Macbook. not ideal, because there was a hassle with lecturers logging in on a strange laptop.

This really had to be improved, because at Academica we stand for professionalism."

Why was Marmitek chosen?

"We did research via Google and soon we came across Marmitek. With the Stream S1 Pro, Marmitek offers the ideal solution with plug-and-play. Thanks to the USB-C adapter supplied, there is often no need for an extra power supply ( with associated dongle and/or cables).
How did the installation of this wireless HDMI solution go?

"Fine. The very compact manual is more than sufficient. The wireless HDMI cable comes with various accessories such as an HDMI extension cable, 2x Micro-USB cable in different lengths, USB-C to HDMI adapter and an HDMI adapter. This made it easy to Connections to screens, projectors and laptops are almost never the same. So depending on the chosen equipment, you sometimes have to look for the best solution and which accessories you need for this."
How does this work in practice?

"The Stream S1 Pro Pro consists of an HDMI transmitter and an HDMI receiver. We purchased 4 sets and connected the HDMI receivers to all screens ourselves. You only have to do this once. The HDMI transmitter of a set is located in the front of the lecture hall. A lecturer or guest speaker plugs the HDMI transmitter into his/her laptop and can almost immediately start sharing presentations, videos or other content wirelessly."

Feedback from teachers?

"That's the great thing: there wasn't any. The transition went smoothly and it just works. Exactly the way we want it to."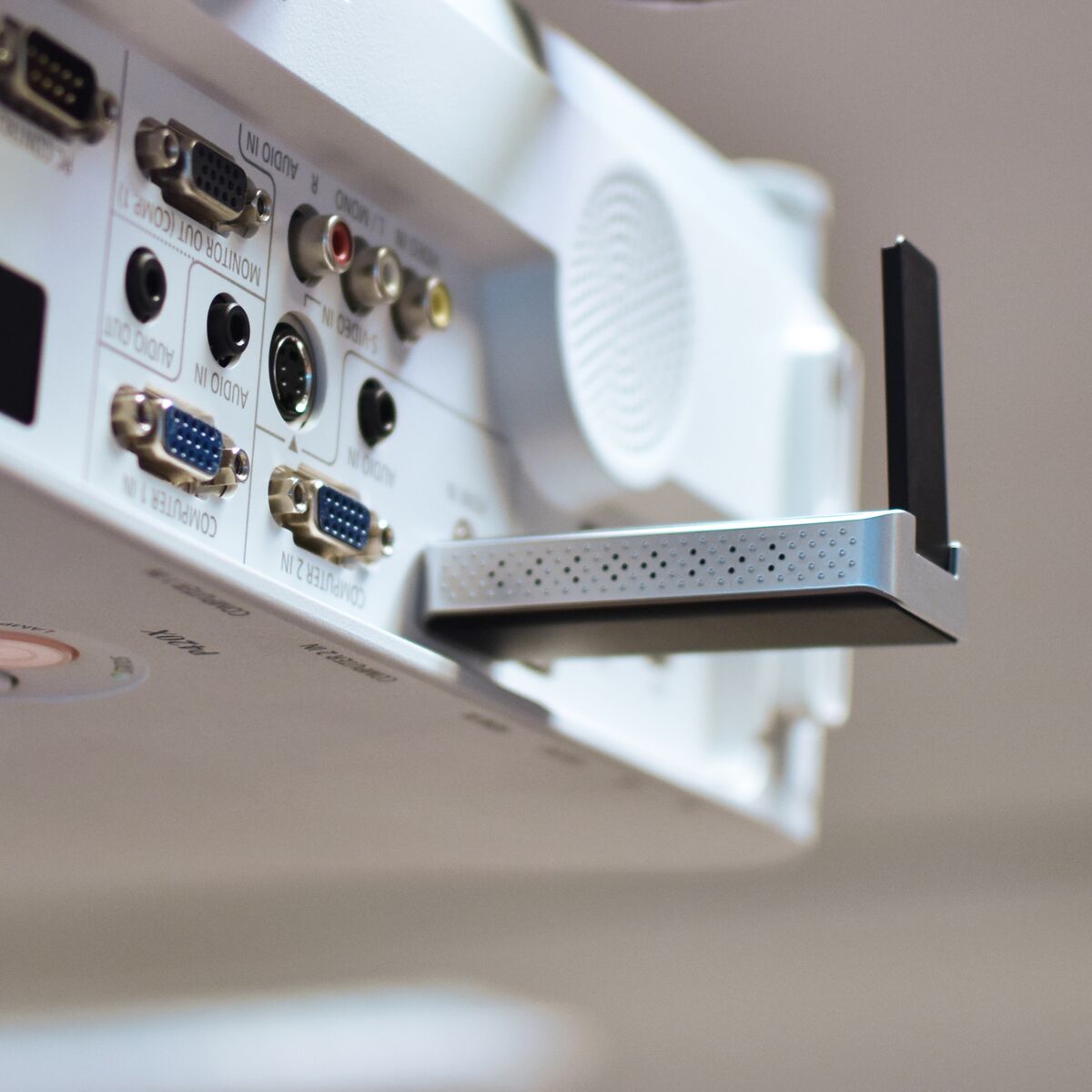 Suitable for any projector with HDMI input
A projector is often used for wireless presentations in lecture halls. With the Stream S1 Pro, every (guest) lecturer can easily make a wireless connection from his/her laptop to this projector. The Stream S1 Pro is available for € 299.99.
MARMITEK. STAY CONNECTED.
Why choose Marmitek?
We have been offering the best solutions for image and sound transmission at an affordable price for 25 years.
We make products accessible to everyone; all our products are plug & play.
We are always ready to help you find the right solution for your situation.
We are always ready to help you find the right solution for your situation.