BoomBoom 75
BoomBoom 75
Bluetooth receiver auto - Portable - Battery
Always included
Bluetooth audio receiver

Mini-jack audio cable | 10 cm

Micro USB to USB cable | 80 cm

Mini-jack adapter cable 20 cm

USB power adapter
BoomBoom 75
BoomBoom 75
Bluetooth receiver auto - Portable - Battery
In stock
This compact Bluetooth receiver is ideal for use in the car. Simply play your favourite Spotify playlist from your smartphone on the car radio. Also, use it to transmit the sound of YouTube videos you're watching on your tablet to your audio system. That sounds much better! Works with any audio system or radio/CD player with aux-in, line-in or mp3-link connection.
Portable
Built-in Battery
Plug & Play
View full details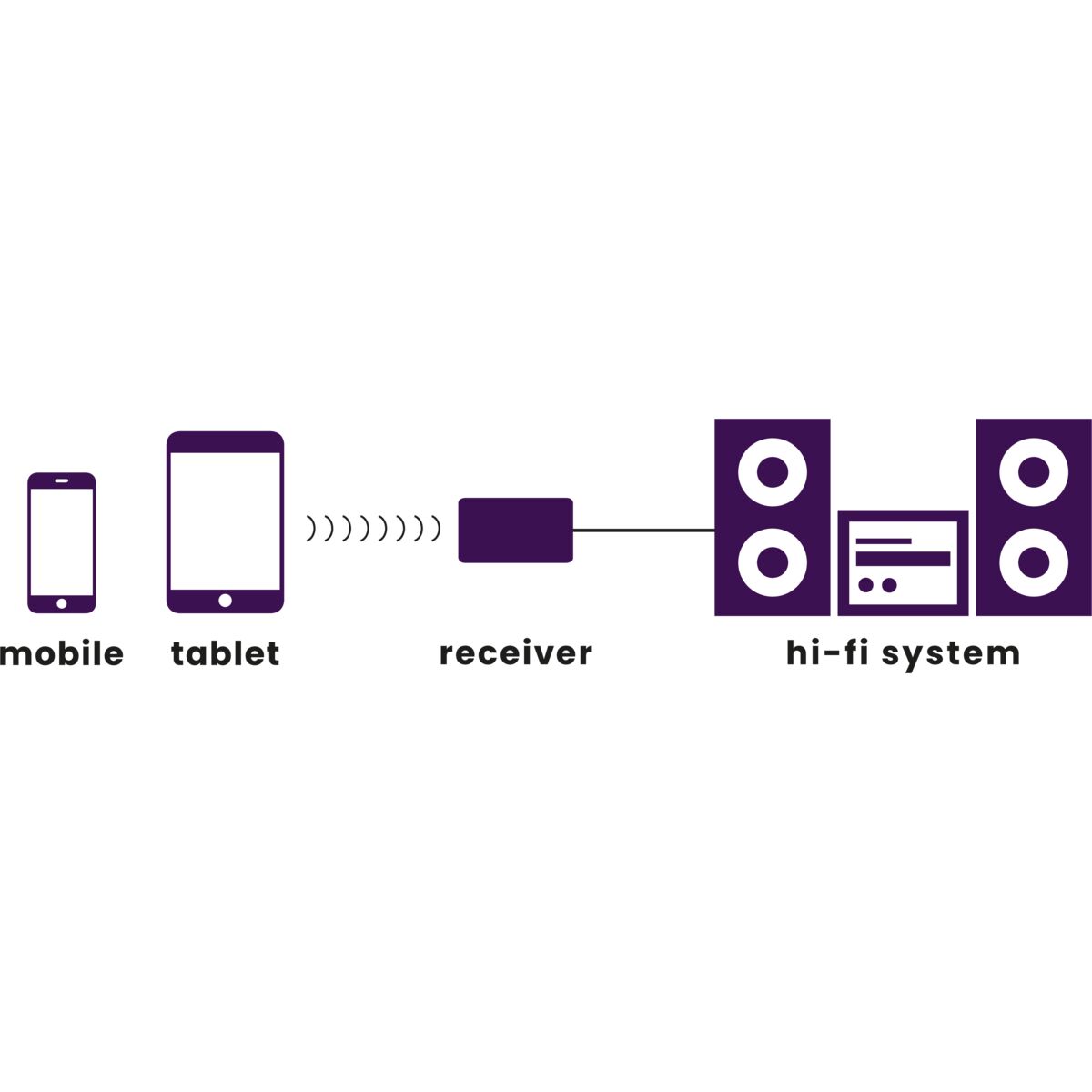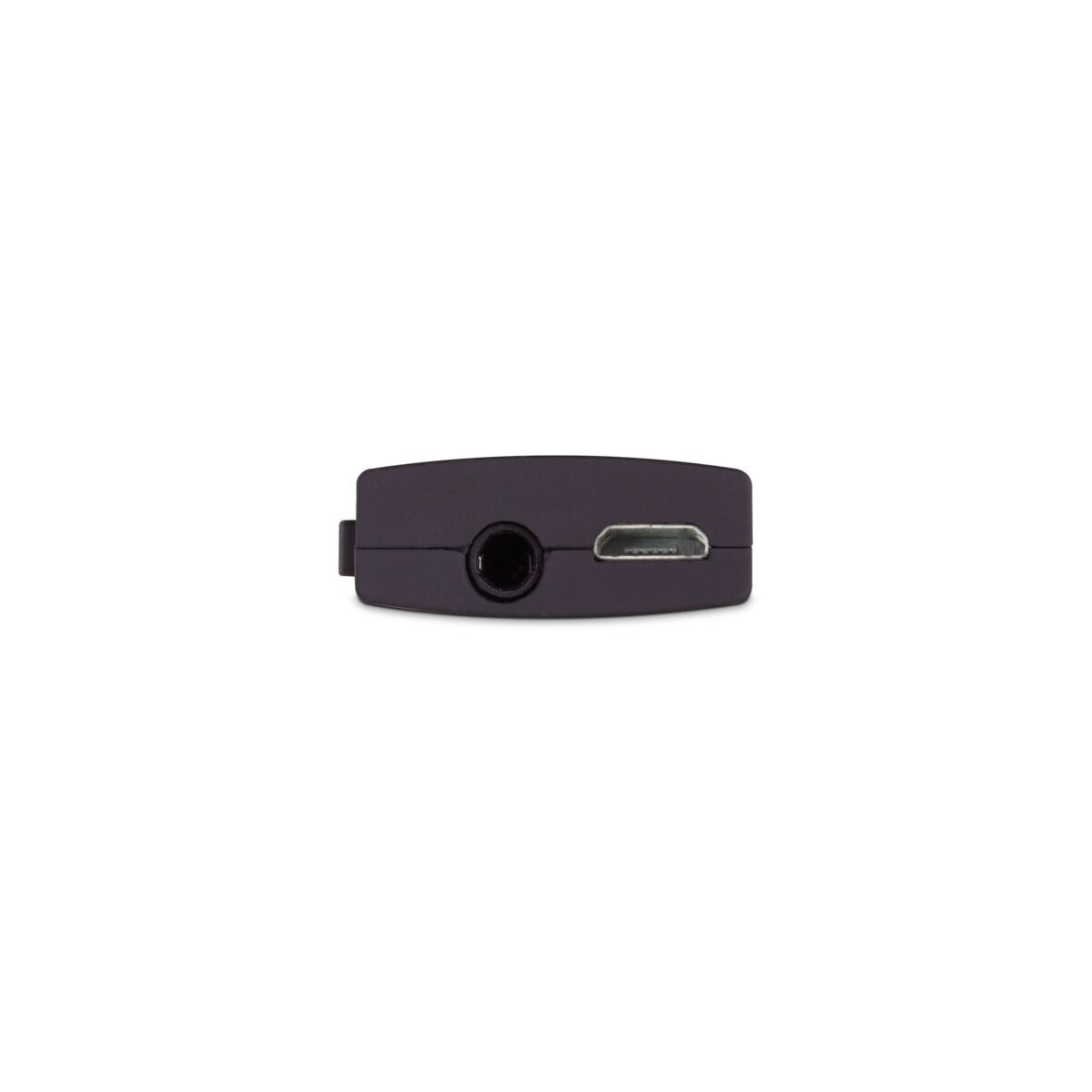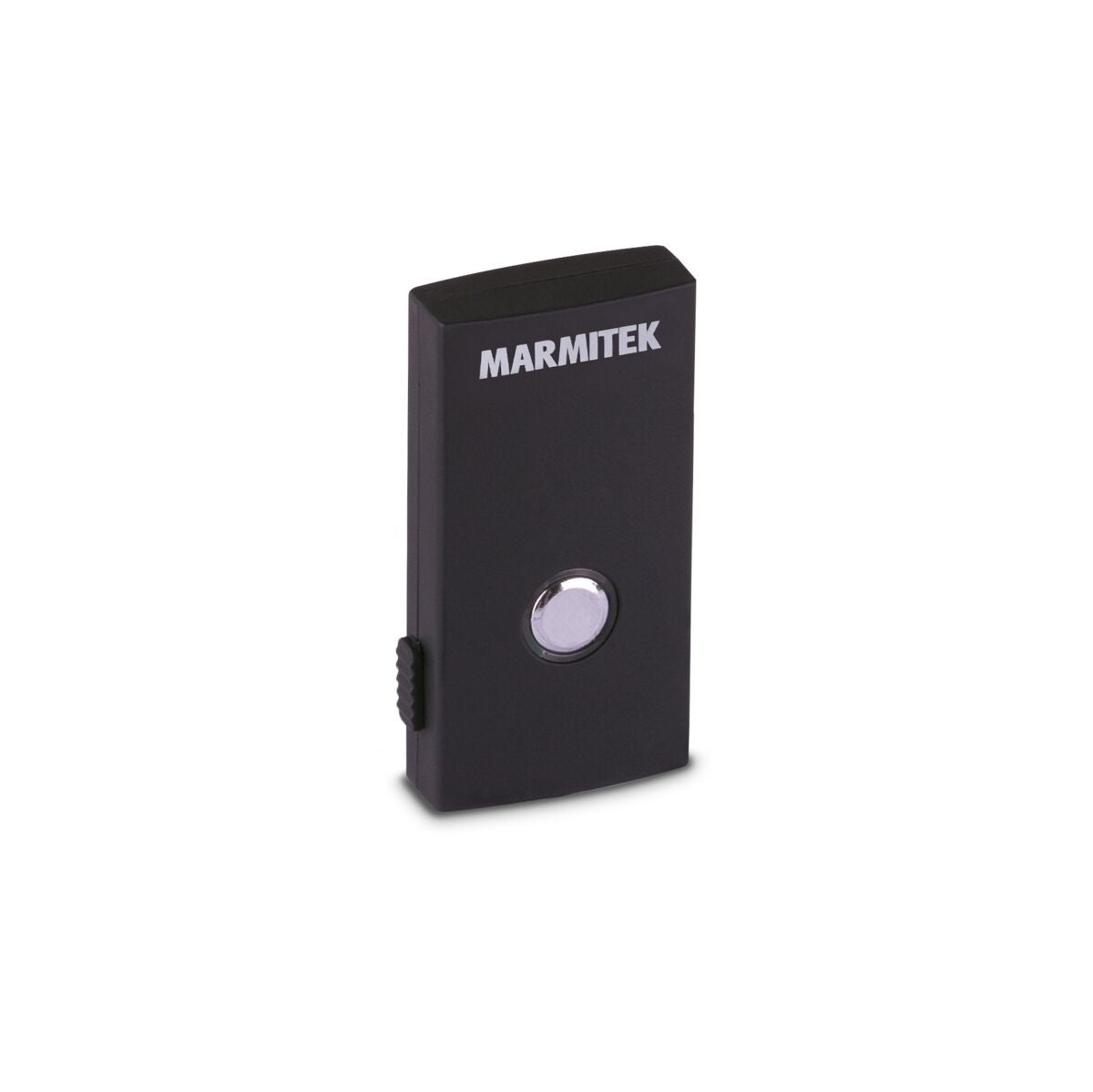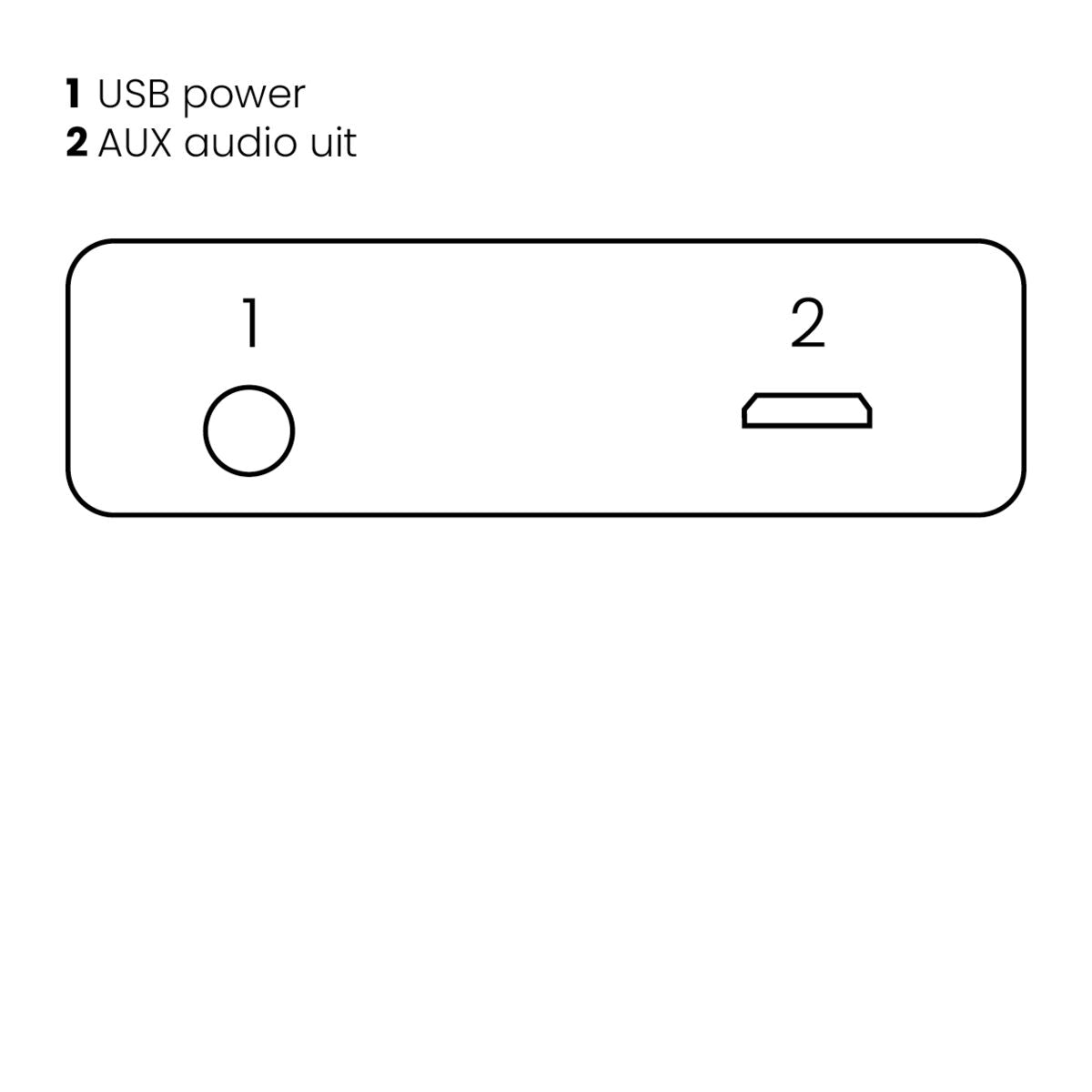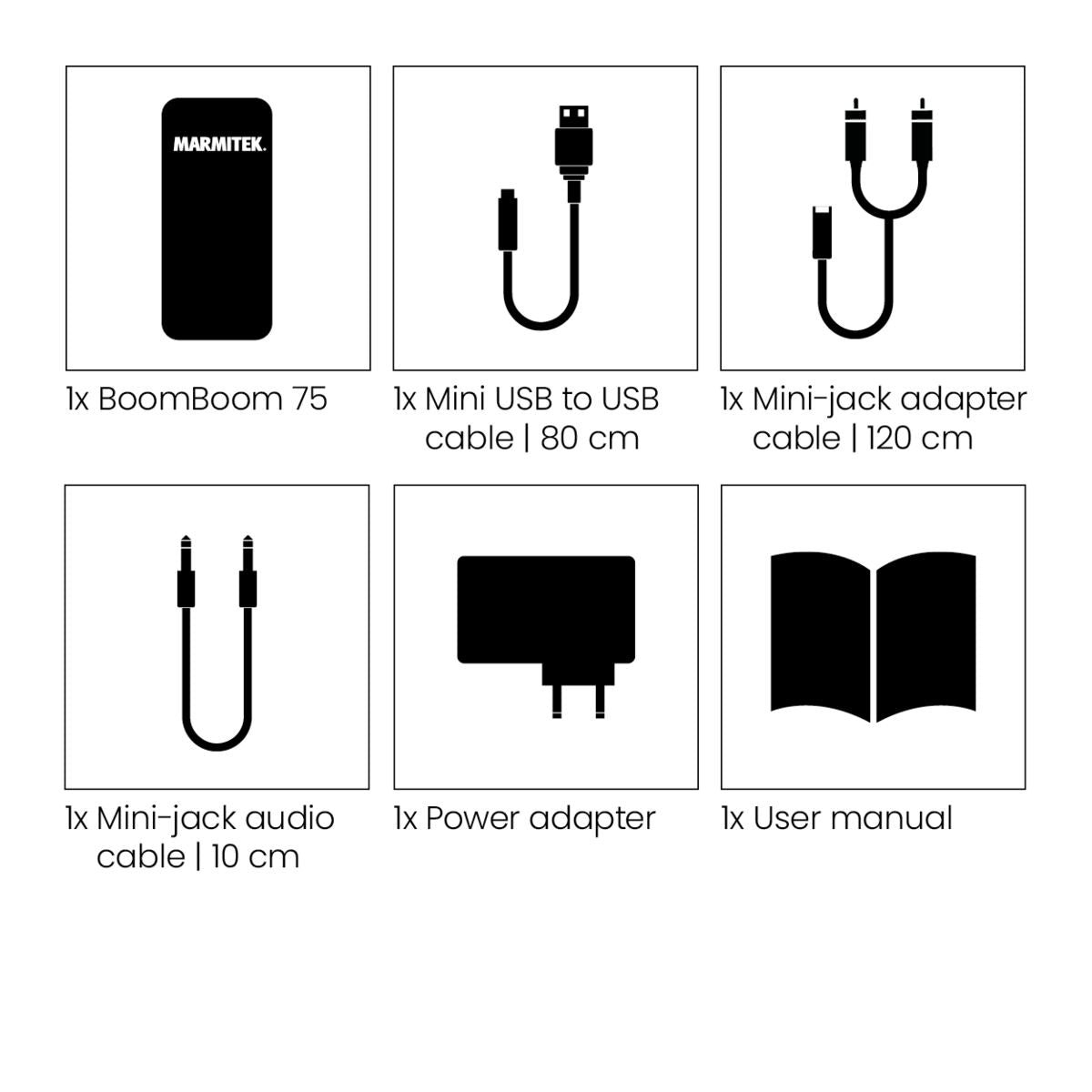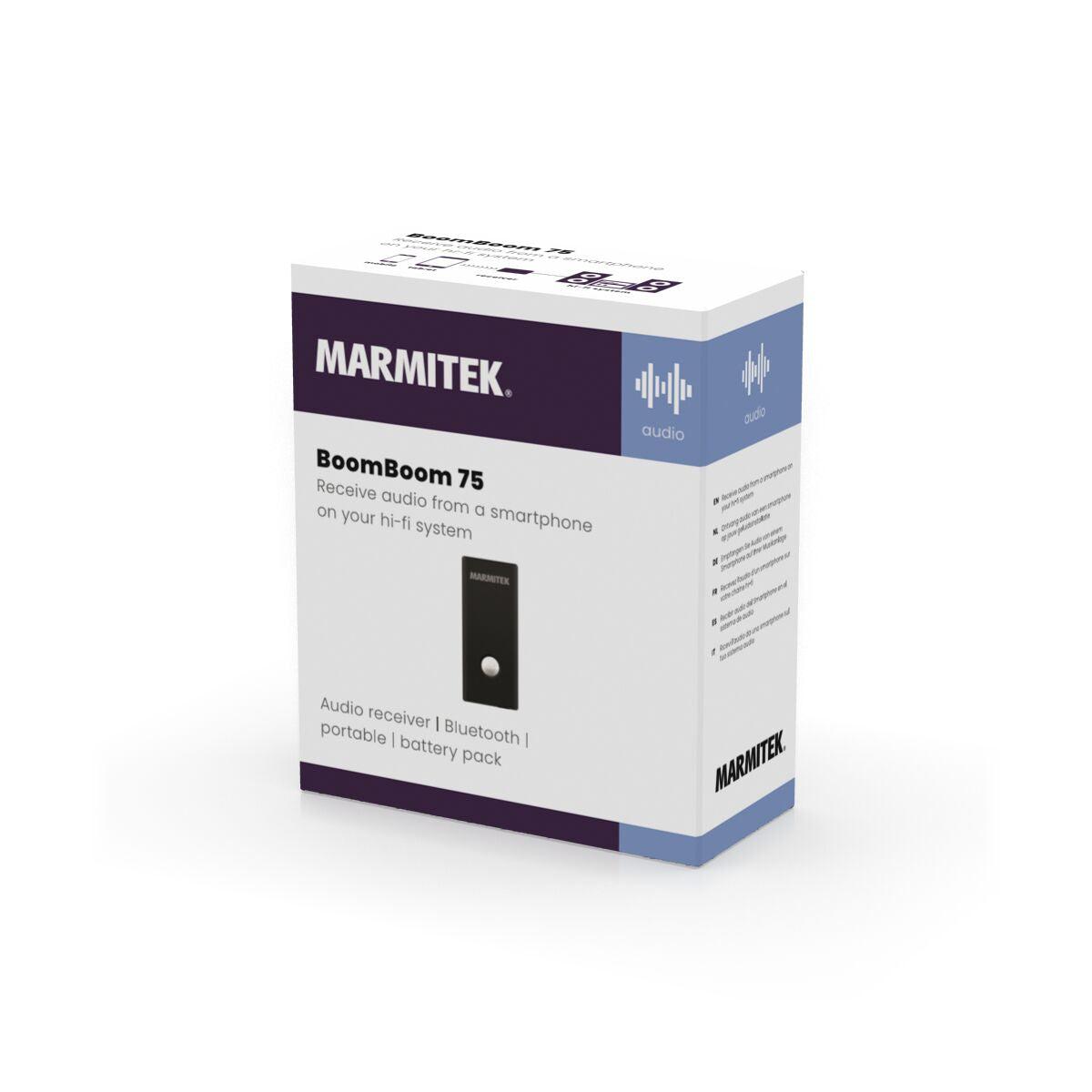 BoomBoom 75
Product description
Receive audio from a smartphone on your hi-fi system
Listen to internet radio or the music stored on your smartphone or tablet PC on your audio system (wirelessly).
Suitable for all Bluetooth enabled sound sources such as iPhone, Android phone, iPad, etc.
Works with all audio installations or radio/CD player with aux-in, line-in or mp3-link connection.
Equipped with battery for mobile usage (e.g. in the car).
Supports A2DP Stereo Bluetooth for music in CD quality.
This compact Bluetooth audio adapter (music receiver) is ideal to use in your car or if you are having a good time with your friends. It enables you to easily stream music from your smartphone/tablet to an audio system. Because the BoomBoom 75 is so small and compact, it is very versatile. You may, for example, also use it to send the sound of the YouTube videos that you are watching on your tablet to your audio system. That sounds much better!
Technical specifications
Interface audio output
3.5mm jack stereo
Dimensions (H x W x D)
9 x 60 x 25 mm
Ambient Temperature
-10 °C ~ +55 °C
Storage Temperature
-20 °C ~ +60 °C
Power consumption at rest
< 2.5 W
Power supply
Mini USB or battery
Audio Frequency Range
10 Hz - 22 kHz (± 3 dB)
Type
3.7 V 145 mA H Li-on
Standby time
Up to 280 hours
Operating time
Up to 10 hours
Energy saving
Automatic shutdown after 10 minutes no connection
Bluetooth profiles supported
A2DP, AVRCP, HFP, HSP
Bluetooth version
V 4.0, class 2
Range
Up to 30 meters with class 1 transmitter and up to 10 meters with class 2 transmitter
Audio delay
SBC 170 - 240 ms
Pair memory
Up to 8 devices
Reviews
Frequently asked questions
Can I link numerous devices to my BoomBoom 75?

The BoomBoom 75 can remember up to 8 paired devices. Therefore, re-pairing with each subsequent connection is not required. If a 9th device is paired with the BoomBoom 75, the first smartphone that was paired with the BoomBoom 75 will be erased from its memory.
Which drivers do I need if I connect the BoomBoom 75 via Bluetooth to my PC?

If you connect a Bluetooth dongle to your PC, Windows will recognise it immediately. However, only the basic functions such as exchanging files will work. Drivers are often supplied with a dongle or they are available on the manufacturer's website. You will also have to install these. The dongle recognises the BoomBoom as a Bluetooth headset. The music will play automatically via the BoomBoom. Even with a PC or laptop with built-in Bluetooth, it may be necessary to install the correct drivers in order to facilitate music transfer.
What drivers do I need if I connect my BoomBoom 75 with the USB connection to my PC?

The USB connection is only to charge the internal rechargeable battery. You can connect to the BoomBoom 75 via the Bluetooth interface of your audio source. (This may be a PC or laptop equipped with a Bluetooth USB dongle, a Bluetooth-enabled mobile phone, an Android phone, Android tablet, an iPhone, iPad or a Mac).
No sound comes out of the audio installation.

Ensure that the audio cable is correctly connected (AUX IN), that the correct input has been selected on your audio installation and that your audio system's volume is set to the desired level.
I can't connect my BoomBoom 75.

Please ensure that the:

Battery is fully charged.
Bluetooth function on your mobile telephone is on (check your phone's manual for reference).
Distance between your mobile phone and the BoomBoom 75 is no greater than 10 metres and that there are no large obstacles in the way. If it still does not work, check the following:

The BoomBoom 75 is switched off and the power adapter is not connected.
Press the button on the Boom Boom 75.
Keep it pressed.
First there is a blue LED light and a few seconds later, there is a blue and red LED.
Release the button.

Try again, if you can connect with your Bluetooth device.
Can I adjust the high and low tones in the BoomBoom display?

On a Windows PC, the taskbar often contains a sound control icon which you may click to adjust the high and low tones. However, this depends on the type of audio card in the PC. The commonly used VLC Media Player also has a built-in equalizer.
What is SBC?

SBC (Low Complexity Subband Coding) enables you to wirelessly listen to audio with reasonable sound quality. SBC is the standard method to send audio via Bluetooth.
Need help?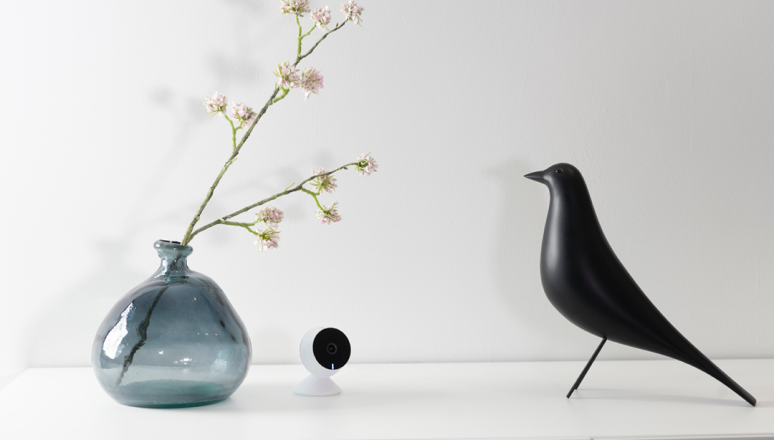 NEED HELP?
WE ARE HERE TO HELP YOU!
If you have any questions about our products or our services, do not hesitate to contact our customer service. Our employees are ready to help you and answer your questions.