Always included
HDMI audio extractor

Power adapter | 150 cm
Out of stock
With this HDMI audio extractor 4K, you connect HDMI sources (Apple TV 4, Chromecast, Wii U, media player) without a dedicated audio output to your audio equipment. The Connect AE24 UHD 2.0 supports 4K, HDR and ARC. The unique HDMI audio output without display function prevents compatibility problems with your current AV amplifier. Use the ARC function of a TV, even when your audio equipment is not suited for it.
Get digital audio from the HDMI cable
Use the TV's ARC function
EDID switch
HDMI audio only output
View full details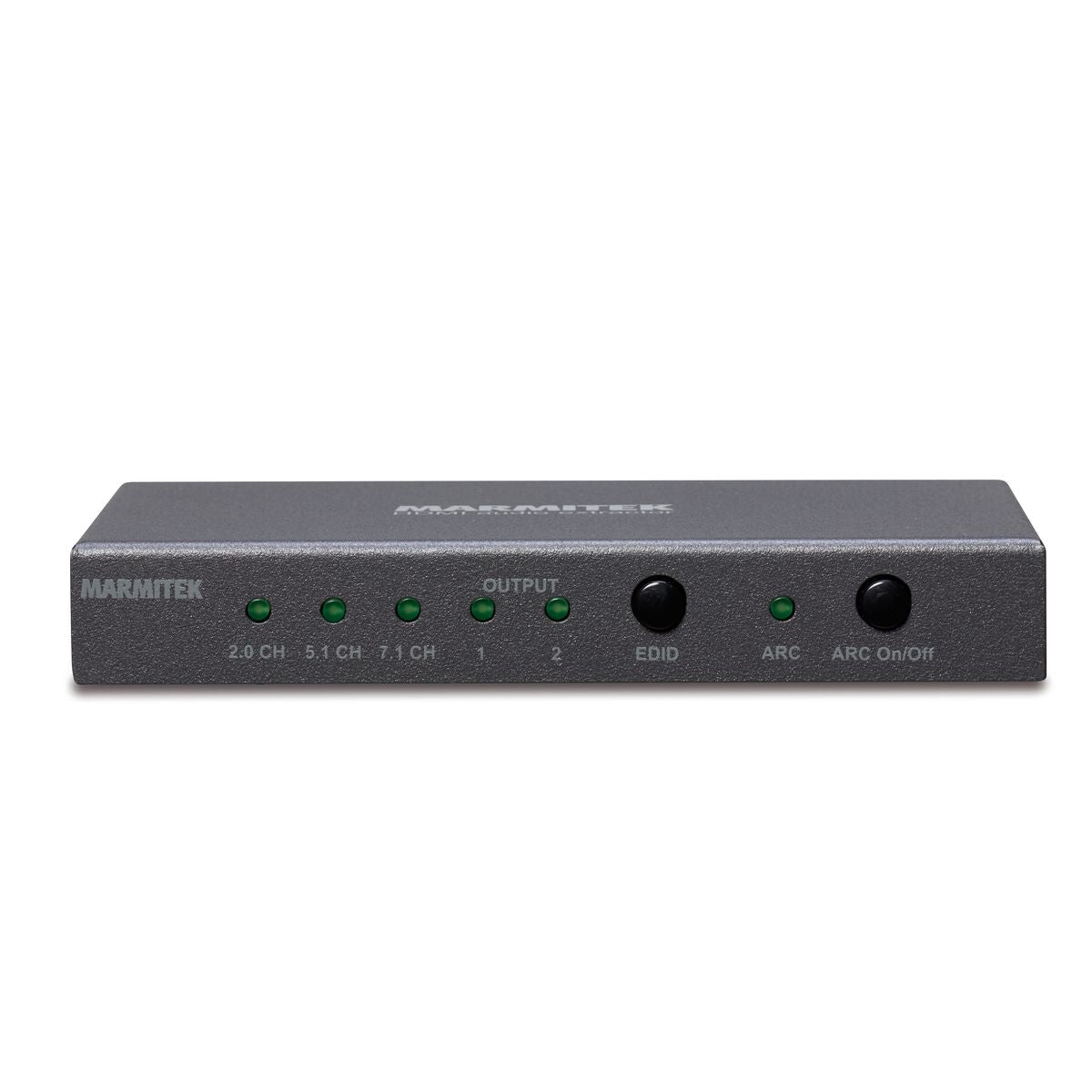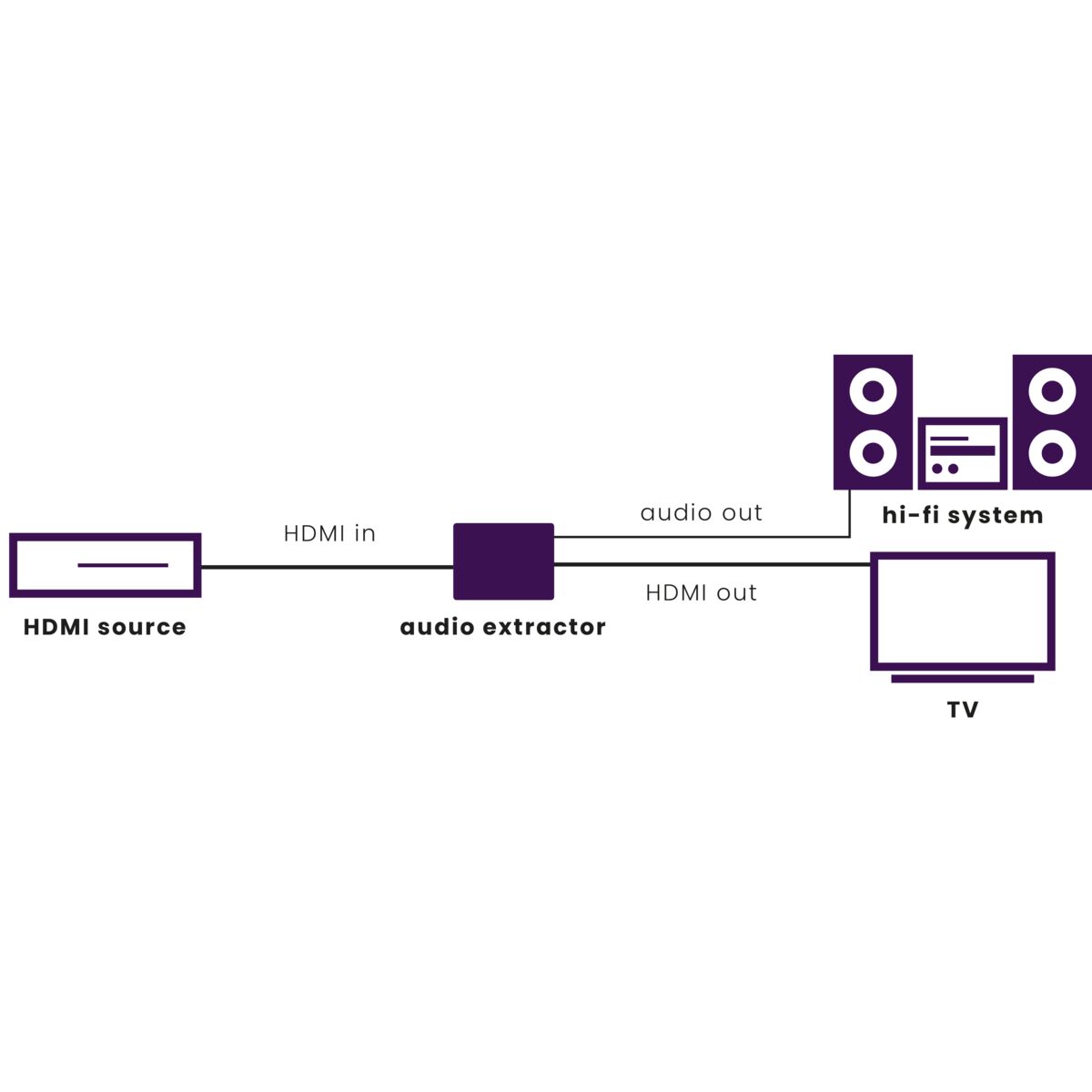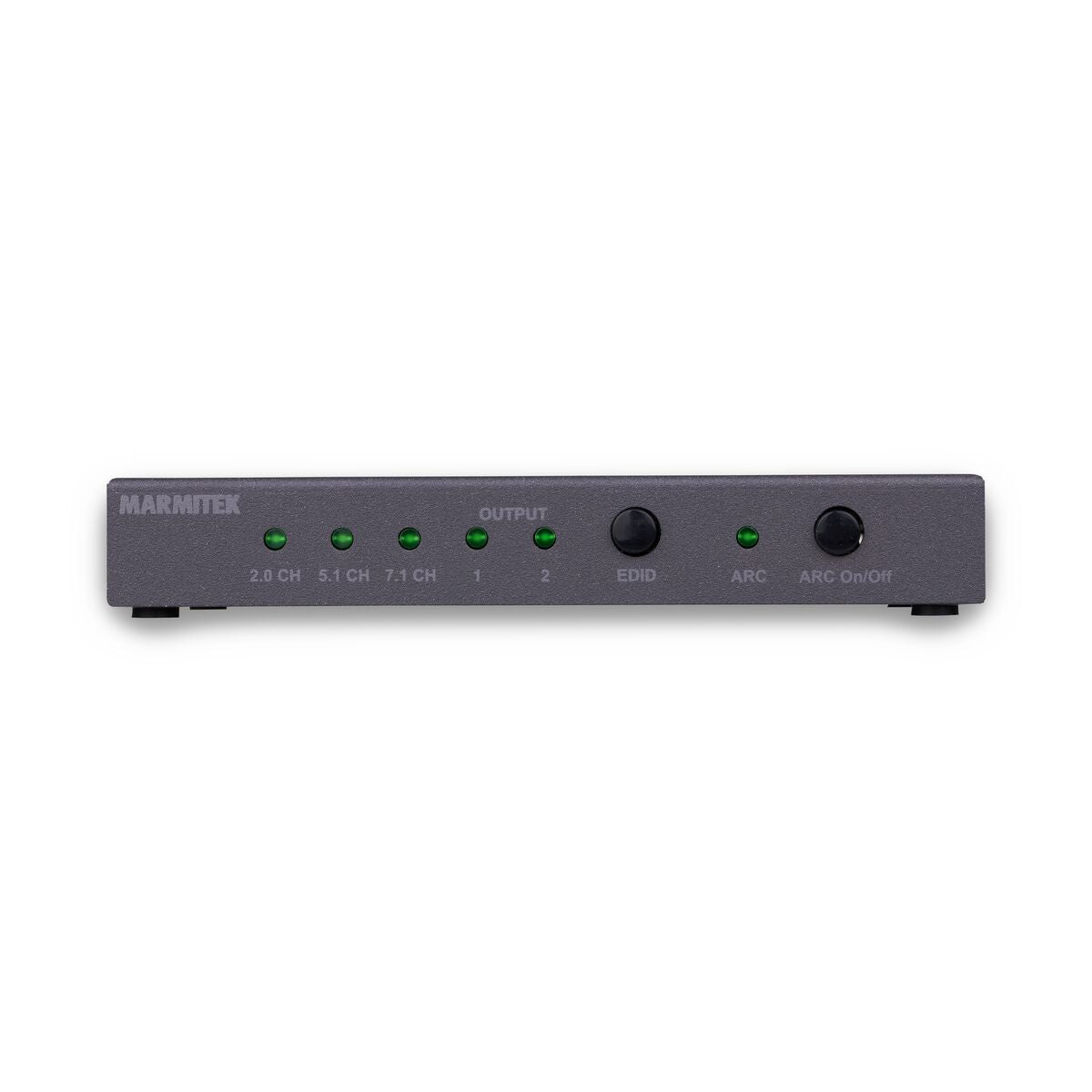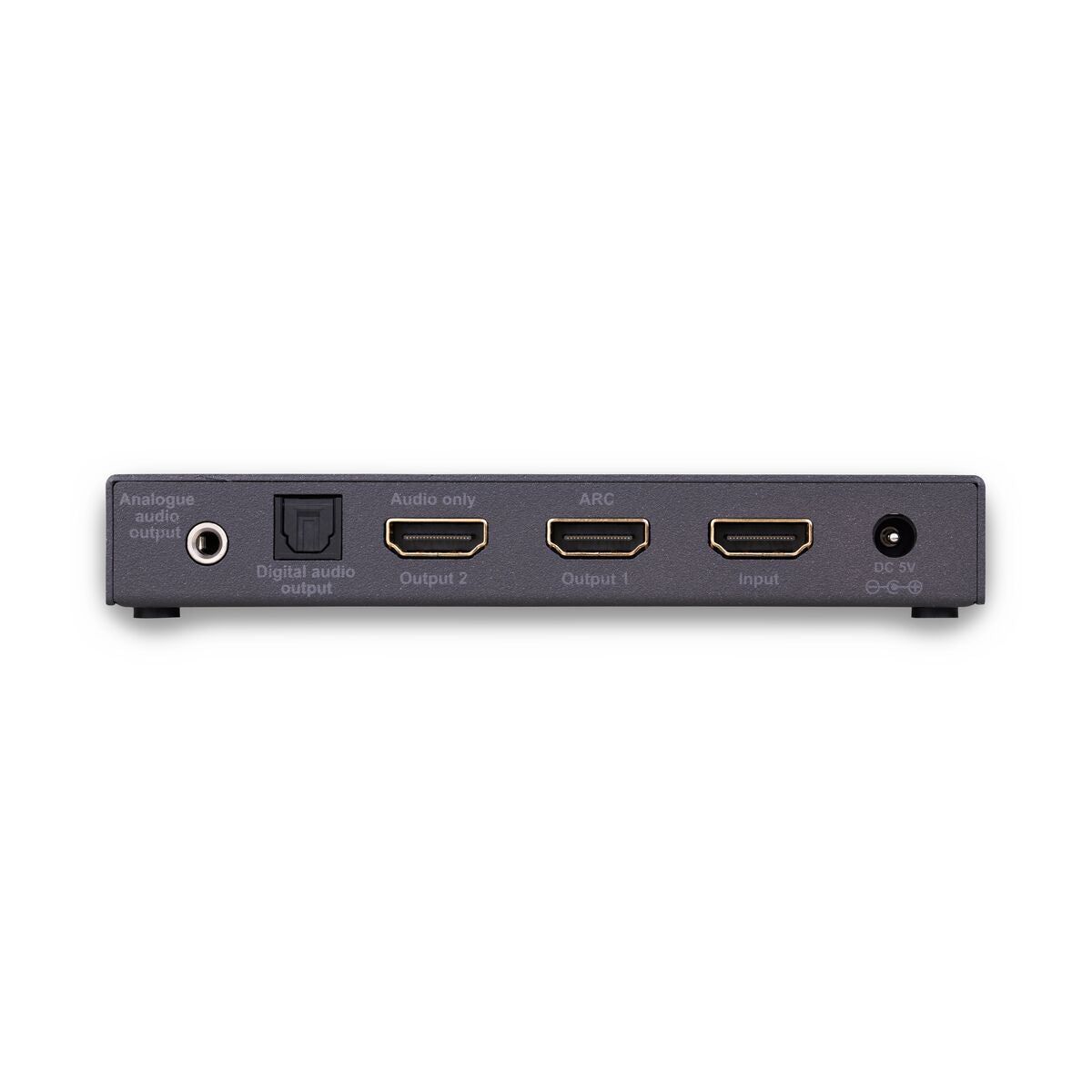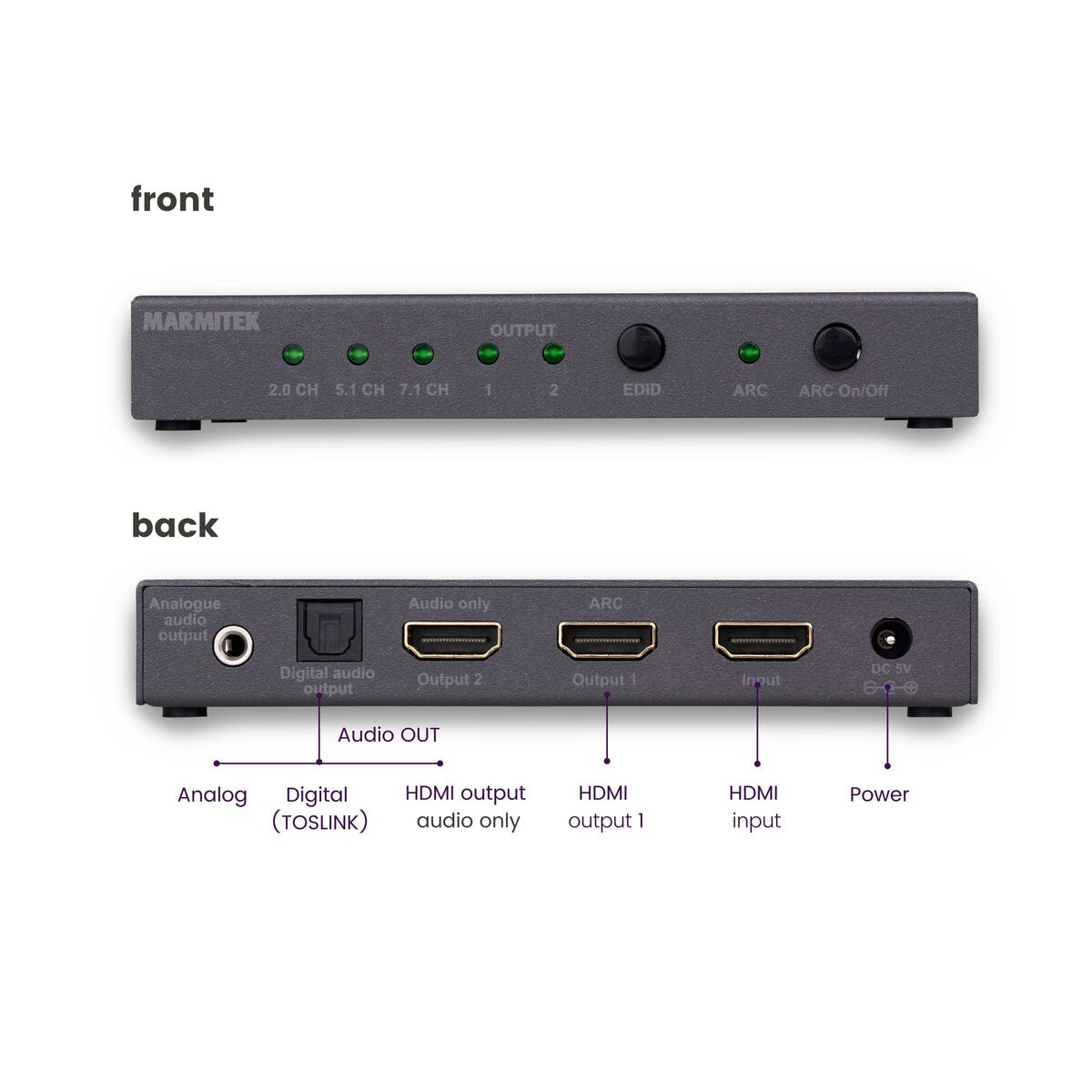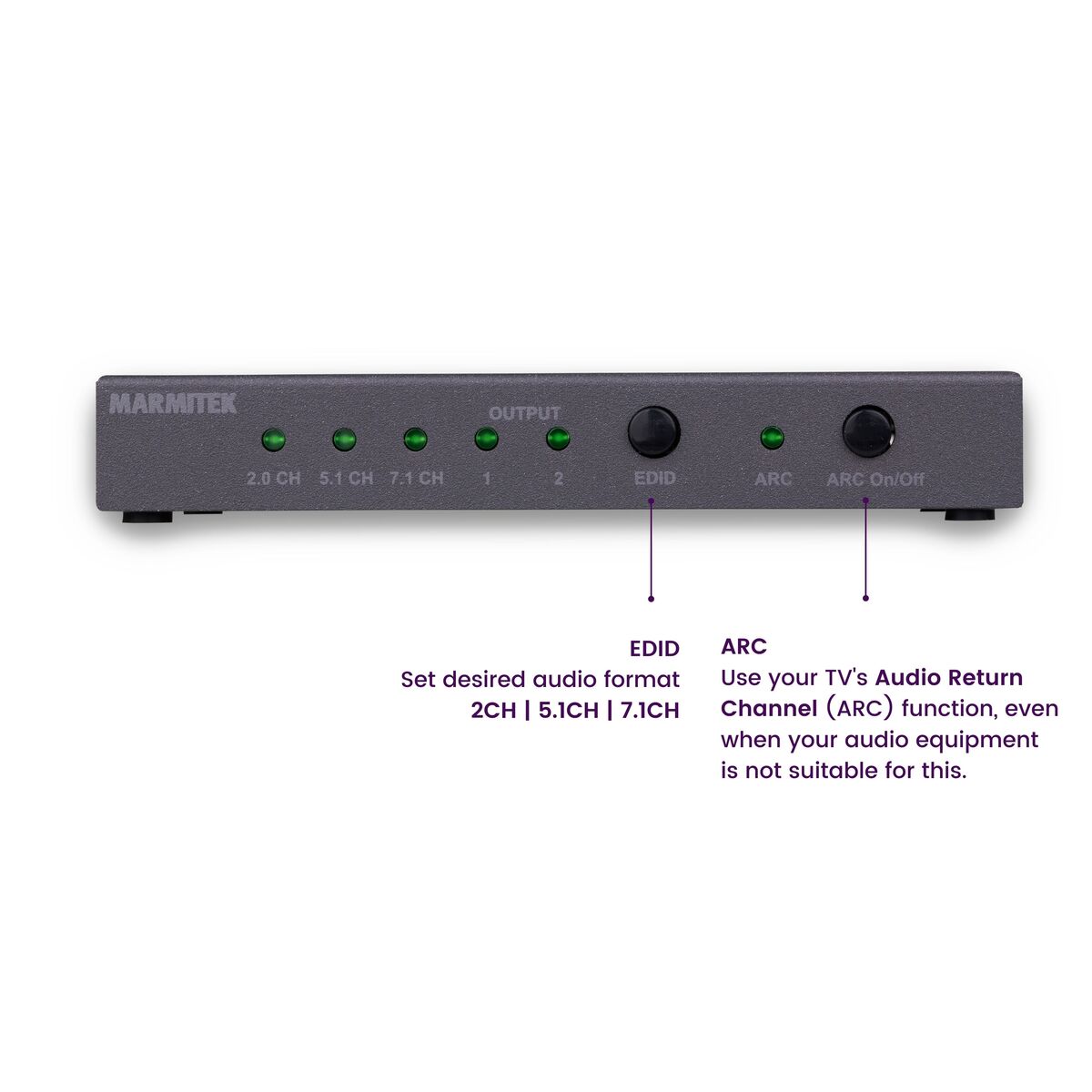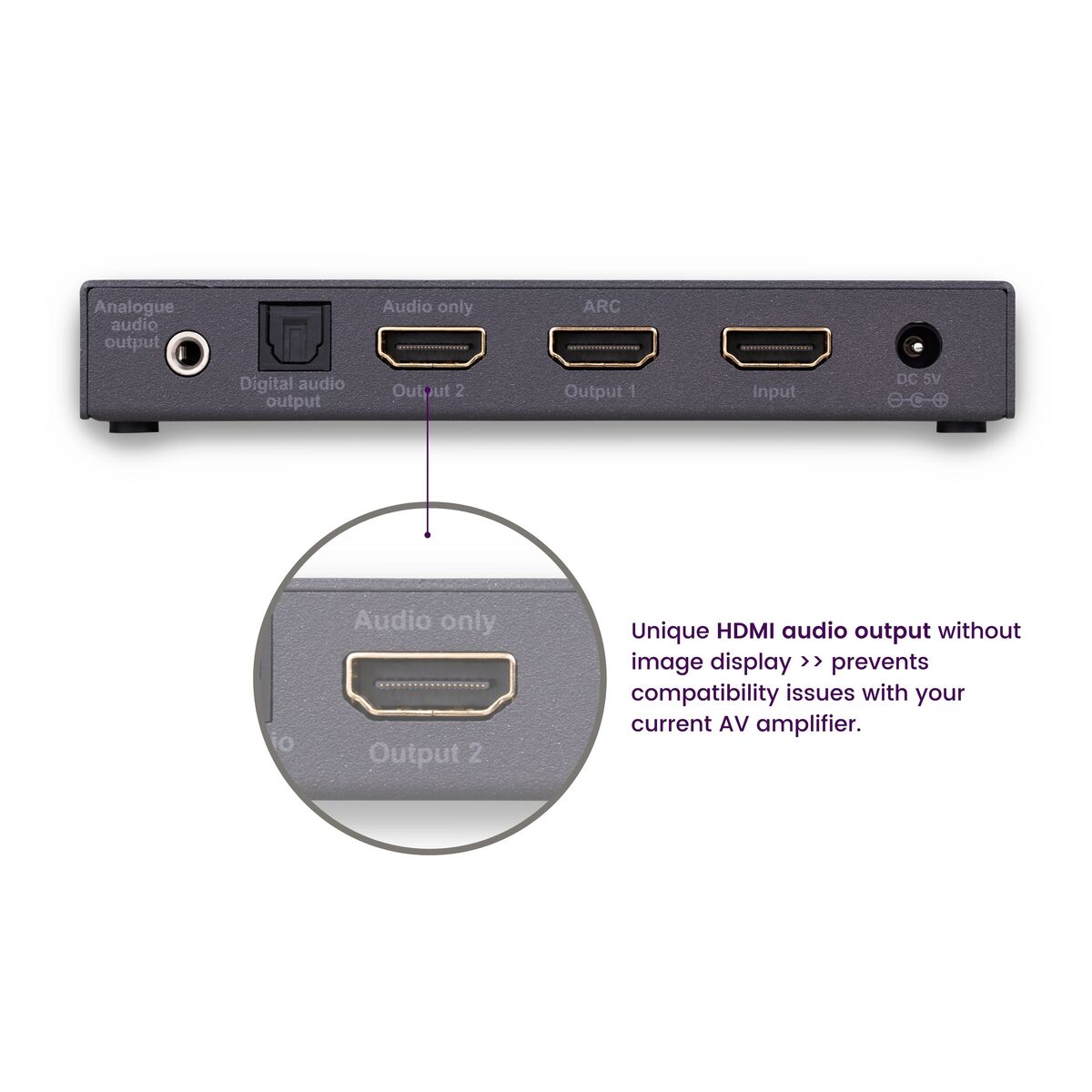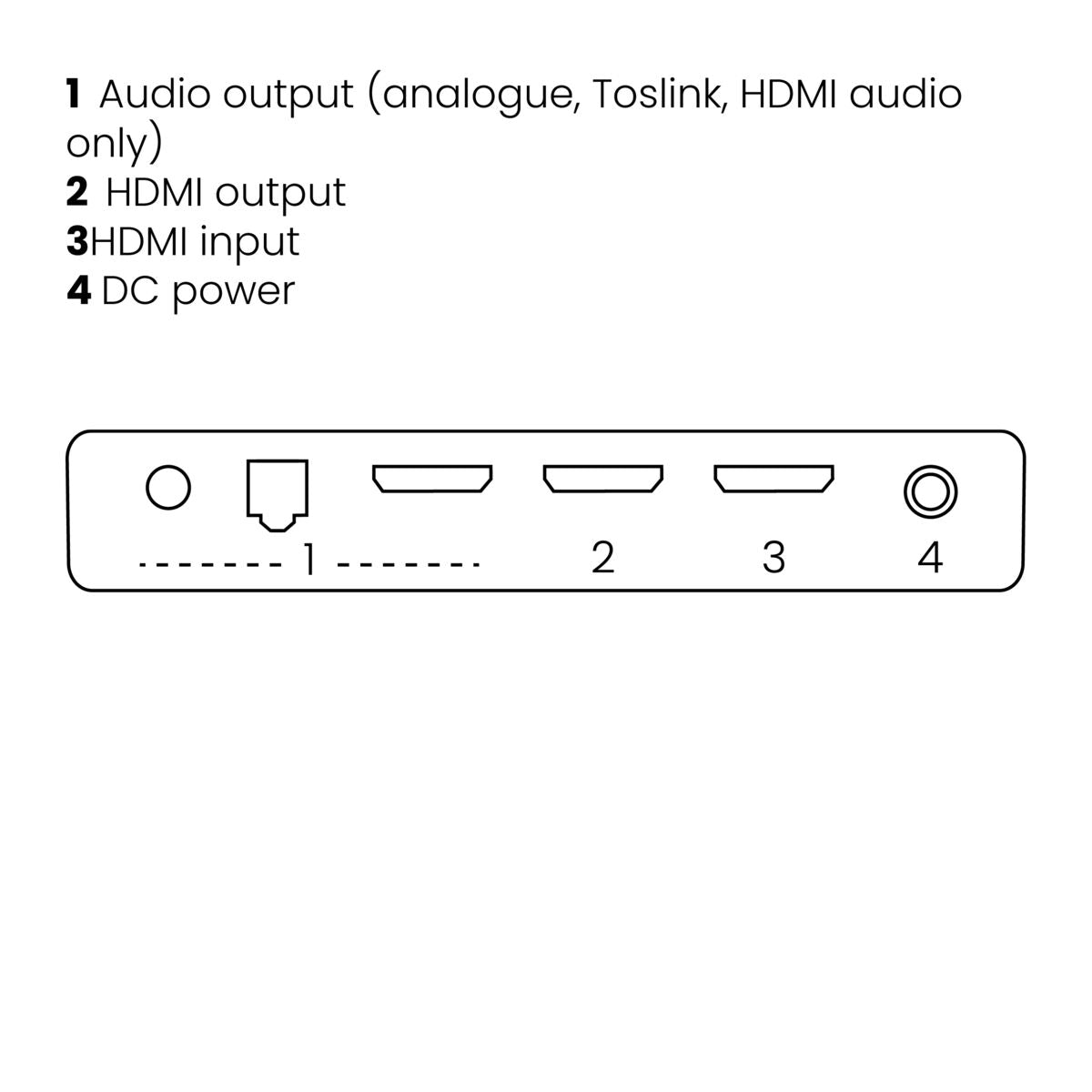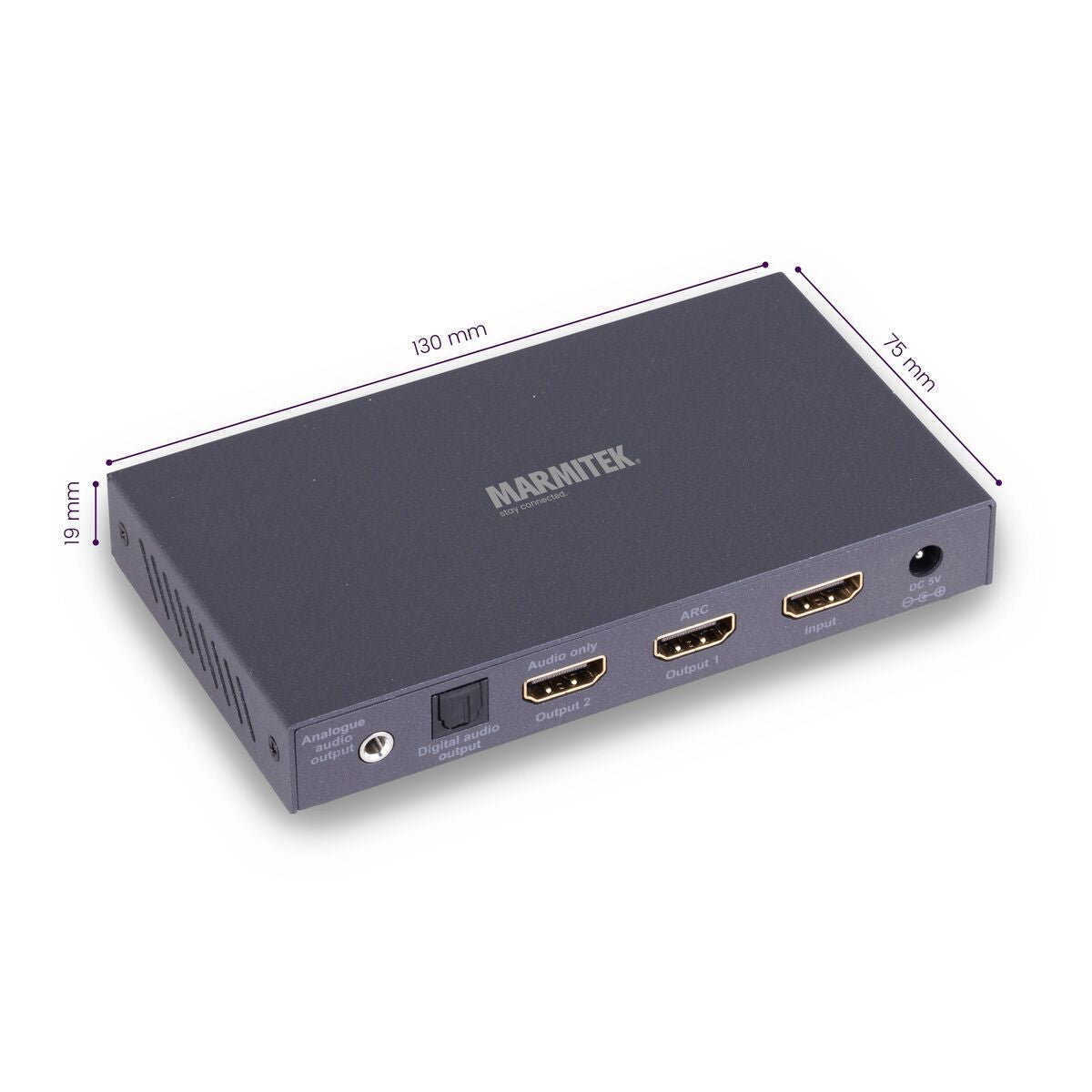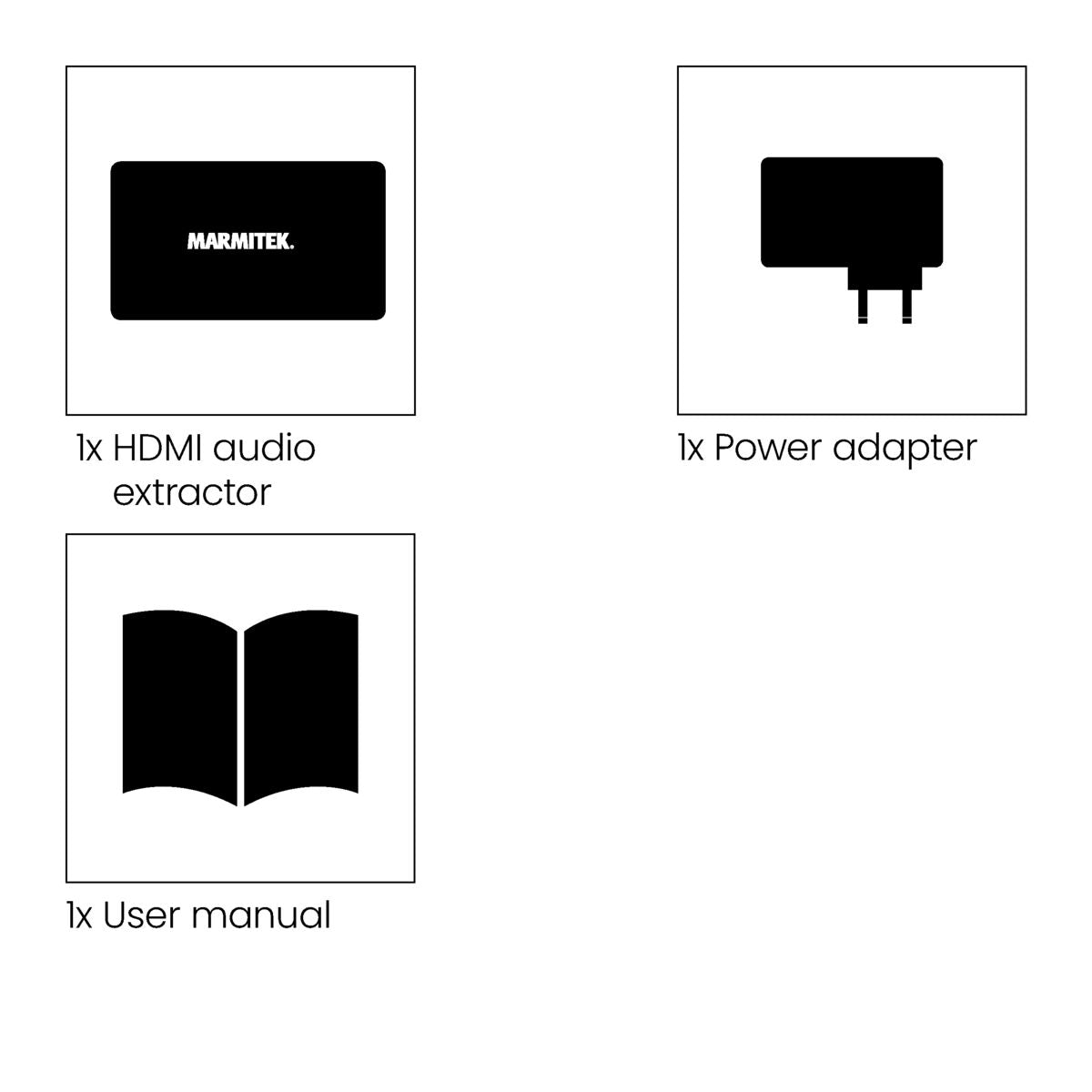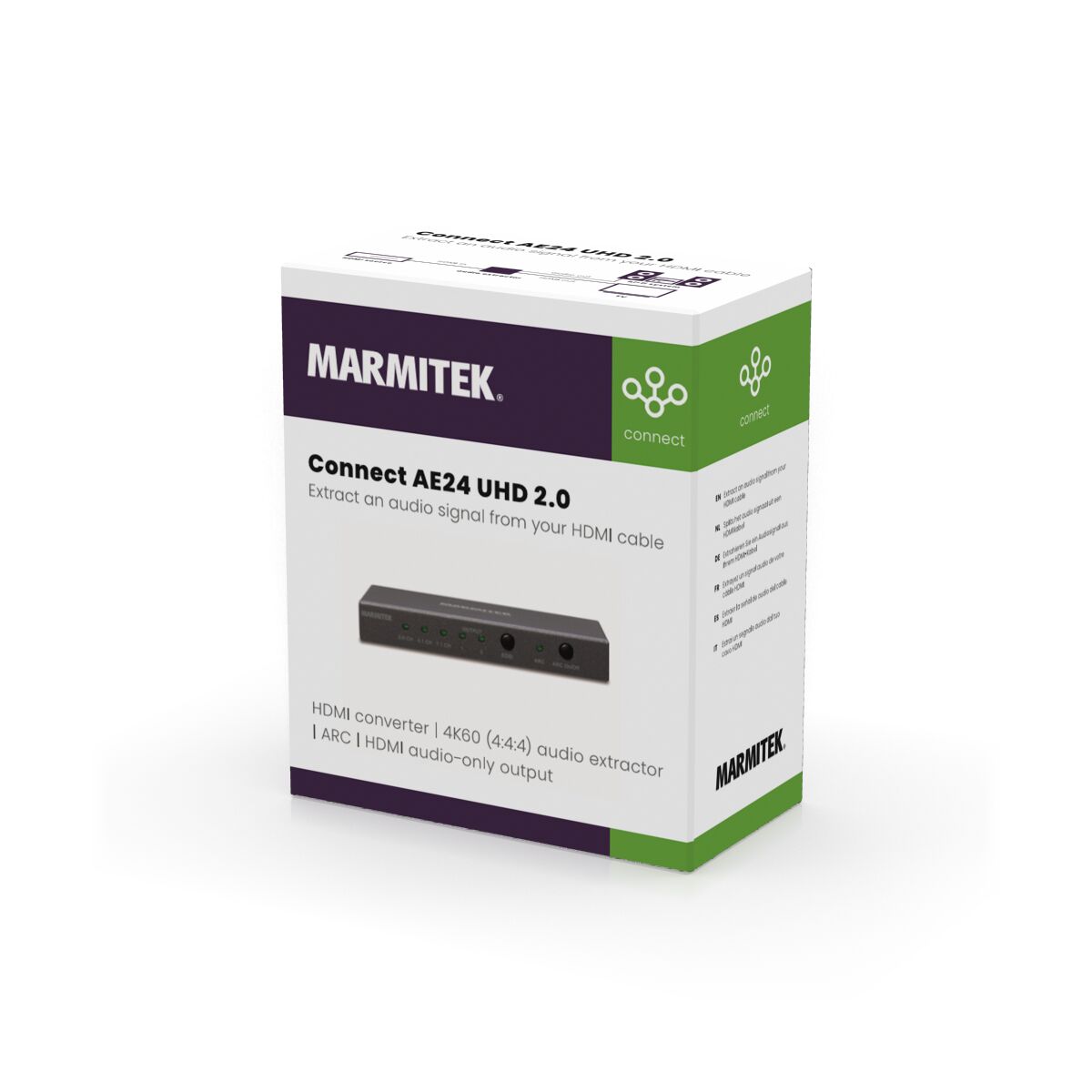 Connect AE24 UHD 2.0
Product description
Connect HDMI devices without a suitable audio output to an audio system.
Play the audio from your Smart TV applications (Netflix, YouTube) or built-in TV decoder on your home cinema set, audio amplifier or soundbar.
Suitable for the latest Ultra HD 4K60 resolution (3840 x 2160/60 Hz), High Dynamic Range (HDR), Deep Color and 4:4:4 chroma colours.
Unique HDMI audio output without image display, thus prevents compatibility issues with your current AV amplifier.
Use your TV's Audio Return Channel (ARC) function, even when your audio equipment is not suitable for this.
If you experience connection problems between an HDMI source, audio amplifier and TV, the Connect AE24 UHD 2.0 offers a solution. This versatile problem solver makes it possible to connect an audio-video source or a TV without a suitable audio output to an audio system anyway. This HDMI 4K60 audio extractor with ARC enables you to extract audio from an HDMI source or TV and forward it to a home cinema set, audio amplifier or sound bar.

HDMI audio only
In addition to an optical and analogue output, this audio extractor also features an HDMI audio-only output (HDMI without image reproduction). It is ideal in situations when your current audio system does not support the latest video resolutions (4K and HDR), but you still want to keep using it for audio playback.

Since only the audio signal is sent to your audio system through the HDMI cable, there will be no problems with image reproduction at the highest resolution possible on your TV. After all, connecting an 'old' audio system would maximise your TV's video resolution to 1080p, while your TV actually supports 4K resolutions. Such a waste! With the Connect AE24 UHD 2.0, you avoid this problem.

An additional advantage of audio over HDMI is that it supports the latest audio codecs (including Dolby TrueHD, DTS-HD Master Audio), while an optical audio signal supports only up to DTS. The Connect AE24 UHD 2.0 therefore allows you to use audio devices that do not support state-of-the-art technologies (4K, HDR, HDCP 2.2), without any concessions to the image and sound quality.

ARC
When your TV does support ARC and your audio system does not, this product still enables you to recover audio over your HDMI cable and then connect it to this audio system optically, through analogue or via HDMI audio-only.

The Connect AE24 UHD 2.0 is suitable for connecting it to state-of-the-art Ultra HD devices that are equipped with HDMI 2.0 & HDCP 2.2 security.

Technical specifications
HDMI cable length
15 meters (max.)
Digital audio output
1x Toslink (optical), 1x HDMI audio only
Analog audio output
1x Stereo 3.5mm
Dimensions (H x W x D)
19 x 130 x 75 mm
Ambient temperature
+0 to +40 °C
Power supply
100 -240 VAC 50/60 Hz, 5 VDC adapter
HDMI audio output
Dolby Atmos, Dolby TrueHD, Dolby Digital/AC3, DTS:X, DTS-HD audio, DTS 5.1 and PCM 2.0 CH stereo
Digital audio output
DTS 5.1, Dolby Digital/AC3 and PCM 2.0 CH
Supported resolution
Max. 2160@60Hz
HDMI standard
HDMI 2.0b, HDR, CEC,ARC, EDID, DVI, Deep Color 36-bit, 3D formats and x.v. Color
HDCP standard
HDCP 1.4/ 2.2
Clock Frequency
Max 600 MHz
Color Formats
RGB and YCbCr 4:4:4, 4:2:0 or 4:2:2
Reviews
Frequently asked questions
How does this product extract audio from an HDMI cable?

This device is connected to an HDMI source. The HDMI-out is used to create a loopthrough to the TV, while you can connect the audio-out to Toslink, analogue output or HDMI audio-only to your amplifier.
What distinguishes the AE24 UHD 2.0 from the AE14 UHD?

The Connect AE24 UHD 2.0 is also suitable for the latest 4K Ultra HD format.
No (or poor) image and sound

If you experience poor or no image after connecting, try to recover the problem by connecting the devices one at the time to your screen (TV, monitor or projector). This way you can determine whether the problem lies with the HDMI sources, the HDMI cables, this product or the screen. HDMI devices which are not tested and certified by ATC (Authorized Test Centers) can cause image and sound problems.

Check if the power adapter is connected and plugged into the mains.
Only use High Speed HDMI certified cables for the best picture and sound quality.
Do not use HDMI cables that are longer than specified in the technical data.
Both the HDMI source and your screen have to support HDMI fully.
Check whether your HDMI sources, DVI device and screen support the copy protection HDCP (High-bandwidth Digital Content Protection).
No proper 3D pictur.

Check whether the HDMI source has been set to 3D and/or that this is set to automatic.
Both the HDMI source as well as the HD screen must support the same 3D formats.
Check whether the proper 3D picture is reproduced by directly connecting the HDMI source to the screen with an HDMI cable.
Need help?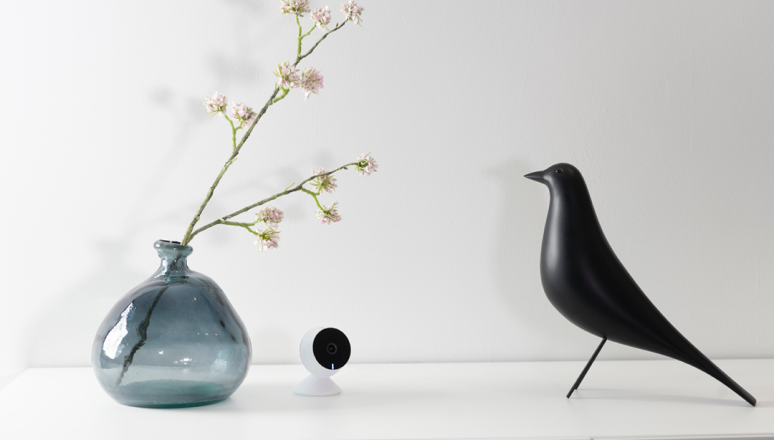 NEED HELP?
WE ARE HERE TO HELP YOU!
If you have any questions about our products or our services, do not hesitate to contact our customer service. Our employees are ready to help you and answer your questions.