If you have a home cinema set, you will soon notice that the cables to the speakers are difficult to hide. It is dangerous and less attractive to have cables across the floor and the use of cable skirting boards is also not always possible. Solve this problem wirelessly with the Surround Anywhere 221 !
Perfect sound
With this set, which consists of a transmitter and a receiver, you can connect the rear speakers of a home cinema set wirelessly. The audio is sent digitally and uncompressed. As a result, the original sound quality is not lost; there is no delay or disruption whatsoever.
How does it work?
The installation of this set is very simple. The set comes with audio cables. You use this for the digital audio transmitter to the speaker output of your home cinema set.
You both connect the speakers to the digital one audio receiver of the Surround Anywhere 221 set. You use the audio cables that come with the rear speakers of the home cinema set for this.
Both the digital audio transmitter and receiver must be powered. Use the supplied power adapters for this.

Watch the instructional video here
Volume control
On the digital audio receiver and transmitter, you can set the volume balance locally to exactly the level you want. This ensures a correct balance between front and rear speakers. Because the digital audio transmitter is directly connected to the speaker output of the home cinema set, you can simply adjust the volume with your own remote control. The volume of the rear speakers automatically changes when you turn them up or down.
Built-in amplifier
The built-in amplifier in the receiver provides more than enough power for the rear speakers of your home cinema set.
Also make your front speakers wireless
The improved 2.4 GHZ technology prevents interference with your existing WiFi equipment. In addition, the digital audio transmitter and receiver are linked together. The above makes it possible to use multiple sets in the same room. This way you can also easily make front speakers wireless!

Enjoy perfect surround sound today without unsightly, dangerous and loose cables in the living room.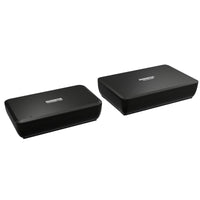 Surround Anywhere 221 - Wireless speakers connection
View products

Why choose Marmitek?
All our products have been extensively tested and meet the high quality requirements that we and our customers set for our products. We have been offering the best solutions for image and sound transmission at an affordable price for 25 years.
We make products accessible to everyone; all our products are plug & play. Moreover, we are always ready to help you find the right solution for your situation.
Marmitek. Stay connected.