Connect an Xbox X Series and Playstation 5 simultaneously to the HDMI port of a gaming monitor, TV or projector.
Do you want to make the most of your Xbox Series X or Playstation 5 by playing 4K and 120 fps? Then it is important that you use the right accessories and screens. For example, you need a television, gaming monitor or projector with an HDMI 2.1 port and 4K resolution. Also don't forget to use HDMI cables that support HDMI 2.1 or higher.
HDMI switch 4K 120Hz
Are you the proud owner of both game consoles? Then use the Connect 720 to simultaneously connect these game consoles to a gaming monitor, TV or projector with 1 HDMI cable. A 4K gaming monitor or 4K TV regularly only has 1 HDMI connection that supports 4K 120Hz. With the Marmitek Connect 720 you always have the option of connecting 2 HDMI devices (4K and/or 8K) to only 1 HDMI port.
HDMI 2.1
As mentioned earlier, all devices that you connect to this latest generation of game consoles must support HDMI 2.1 or higher. If this is not the case, you will not benefit from the unique features and optimal image quality that new consoles offer. The Connect 720 supports several features of the HDMI 2.1 standard. Using this HDMI switch will therefore have no effect on the unique properties of your Xbox Series X or PlayStation 5.
Some key gaming features that the Connect 720 supports are:
VRR (Variable Refresh Rate)
VRR is an abbreviation for Variable Refresh Rate. This means that your screen adjusts the refresh rate to the frame rate of a console or PC. When you watch movies or TV shows, they are usually at 24 fps, 25 fps or 30 fps, and you don't need VRR. The frame rates in a game are much less constant and fluctuate strongly because there is a lot of action going on. These sudden changes in frame rate cause screen tearing on displays operating at static refresh rates. VRR ensures that the refresh rate of the screen is aligned with the frame rate that the console sends.
The Connect 720 scores mainly because it can also process VRR in addition to 4K at 120 Hz. You can connect an Xbox Series X and a PlayStation 5 to a suitable TV, for example, without the image being downgraded to 60 (or even 30) frames. This is often the case with HDMI switches from 2021 and earlier, which therefore do not support VRR.
ALLM (Auto Low Latency Mode)
Automatic Low Latency Mode is also a feature for game consoles and PCs. Low Latency mode refers to the 'Gaming mode' that can be found on the TV. ALLM ensures that the source can automatically indicate that the Gaming Mode should be used for the image that is being played. The Gaming Mode ensures less delay between your input via the controller of a game console and the action you see on your screen.
Automatically switches between 2 connected sources
This HDMI switch automatically switches between the connected HDMI sources. The switch detects when, for example, the PlayStation 5 or Xbox Series X is switched on and quickly and safely switches automatically to the correct source. Manually selecting an active source via the button on the top is always possible when both devices are switched on. You don't need a remote control.
summarizing
Connect 2 HDMI devices (4K and/or 8K) with 1 cable to the HDMI input of a gaming monitor, TV or projector.
Suitable for Ultra HD 8K60 (7680 x 4320 / 60Hz) & 4K120 (3840x2160 /120Hz) resolution.
Supports gaming features such as VRR, ALLM, QMS and QFT
Available audio formats: DTS-HD Master Audio, Dolby TrueHD, Dolby Atmos, DTS:X, Dolby Digital/AC3 and PCM Stereo.
HDR, Deep Color and 4:4:4 chroma colors.
Connect your PlayStation 5 or X Box Series X to the 4K 120Hz HDMI port of your gaming monitor at the same time today. 4K gaming has never been easier.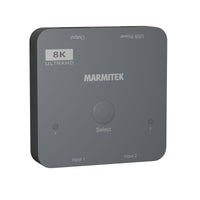 Connect 720 - HDMI switch 8K 60Hz - 4K 120Hz - HDMI 2.1 - 2 in / 1 out
View products
Why choose Marmitek?
All our products have been extensively tested and meet the high quality requirements that we and our customers set for our products. We have been offering the best solutions for image and sound transmission at an affordable price for 25 years. We make products accessible to everyone; all our products are plug & play.
Moreover, we are always ready to help you find the right solution for your situation.
Marmitek. Stay connected.